Haddon Hammers: NJ Indoor Rowing Championships
Feb 4, 2018

indoor
Westmont, NJ (USA)
Hosted By: Haddon Township High School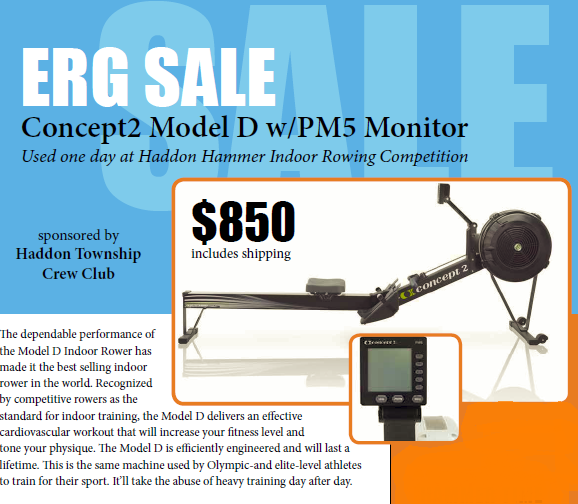 Other Ergs for Sale from HTCC
• Year-old Model D w/PM5 monitor used since 1/2017. $825
• 2012 and older ergs. $600
HOW TO ORDER
Online: Visit www.haddonhammers.com.
Email: request Order Form at [email protected]
Deadline for orders and payment is January 10, 2018.

QUESTIONS
email to [email protected]

PICK-UP
Ergs must be picked up at conclusion of 2018 Haddon Hammer, HTCC's
indoor rowing competition on February 4, 2018 at Haddon Township High
School. Ergs will be used at the event, which is expected to conclude by 2pm.
Website
http://www.haddonhammers.com
Contact
Gregg Francis
Email

[email protected]

Phone
n/a
Chief Referee
Not yet posted
Juniors
Yes
High School
Yes
Middle School
No
Collegiate
Yes
Open
Yes
Masters
Yes
Elite
Yes
Para
No
Inclusion
No
Entry Fees (USD)