Battle of the Bridges
Sep 15, 2018

head
Venice, FL (USA)
Hosted By: Sarasota Scullers
2018 Registered Regatta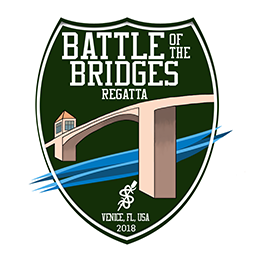 Regatta Packet - Uploaded 7/16/2018
Team Food Tent Updates:
UPDATE: 10x10 tents only, please!
Teams please note, your food trailer may not be able to pull up directly next to your food tent. Trailers may be asked to park in a nearby location that is accessible to tents. Additionally, grills will permitted, however not underneath the food tents.
Red Tide Statement:
We are monitoring the water and air conditions closely. The regatta is still proceeding as scheduled. To date, Sarasota Scullers have not canceled any water practices due to the red tide. Athletes with asthma and/or other breathing conditons will be encouraged and reminded to bring their inhalers with them when they lauch.
Website
http://battleofthebridgesregatta.com/
Contact
Danielle Tanaka
Email
battleofthebridges@sarasotascullers.org
Phone
941-966-2244
Sanctioned by
Chief Referee
Clemens Reiss
Juniors
Yes
HS/Scholastic
Yes
Collegiate
No
Open
Yes
Masters
Yes
Elite
No
Para
No
Inclusive
No
Entry Fees (USD)

| | Standard Cost |
| --- | --- |
| 1. Eights | $90.00 |
| 2. Quads/Fours | $75.00 |
| 3. Doubles/Pairs | $50.00 |
| 4. Singles | $35.00 |