Colorado 14er Challenge
Jan 1, 2021

To

Jan 31, 2021

virtual
Denver, CO (USA)
Hosted By: Mile High Rowing Club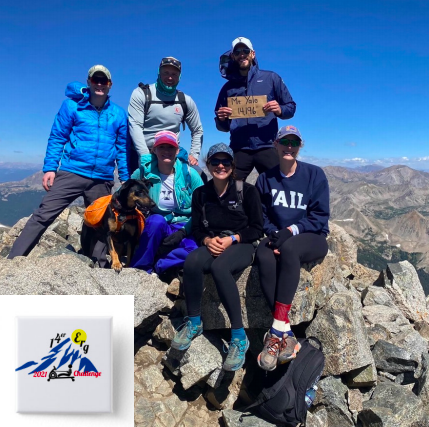 The Colorado 14ers Winter Erg Challenge
Colorado is home to 53 mountain peaks that rise more than 14,000 feet in altitude, and a classic
Colorado challenge involves climbing to the summit of every one. While we're stuck at home,
Mile High Rowing Club challenges erg-bound rowers to attempt the same thing, virtually, by
rowing the meters of the peaks, starting January 1, 2021, finishing them by January 31, 2021.
Awards
Complete all 53 and recieve a beautiful logo t-shirt and printable certificate
Complete the first 28 and recieve a logo button and a printable certificate
Complete the first 14 and recieve a beautiful printable certificate
All entrants earn Colorado tough bragging rights!
The Colorado 14ers challenge events

Total Meters
•All 53 peaks: 228,805 meters
•First 28 peaks, Mt. Elbert through Mt. Democrat: 121, 695 meters
•First 14 peaks, Mt. Elbert through Mt. Evans: 61, 136 total meters
Rank | Mountain Peak | Mountain Range | Elevation Feet, Meters
1. Mount Elbert | Sawatch Range 14,440 ft, 4401 m
2. Mount Massive | Sawatch Range 14,428 ft, 4398 m
3. Mount Harvard | Sawatch Range | 14,421 ft, 4395 m
4. Blanca Peak | Sangre de Cristo Range | 14,351 ft, 4374 m
5. La Plata Peak | Sawatch Range | 14,343 ft, 4372 m
6. Uncompahgre Peak | San Juan Mountains | 14,321 ft, 4365 m
7. Crestone Peak | Sangre de Cristo Range | 14,300 ft, 4359 m
8. Mount Lincoln | Mosquito Range | 14,293 ft, 4356 m
9. Castle Peak | Elk Mountains | 14,279 ft, 4352.2 m
10. Grays Peak | Front Range | 14,278 ft, 4352 m
11. Mount Antero | Sawatch Range | 14,276 ft, 4351.4 m
12. Torreys Peak | Front Range | 14,275 ft, 4351 m
13. Quandary Peak | Mosquito Range | 14,271 ft, 4359 m
14. Mount Evans | Front Range | 14,271 ft, 4350 m
15. Longs Peak | Front Range | 14,259 ft, 4346 m
16. Mount Wilson | San Miguel Mountains | 14,252 ft, 4344 m
17. Mount Shavano | Sawatch Range | 14,231 ft 4337 m
18. Mount Princeton | Sawatch Range | 14,204 ft, 4329.3 m
19. Mount Belford | Sawatch Range | 14,203 ft, 4329.1 m
20. Crestone Needle | Sangre de Cristo Range | 14,203 ft, 4329 m
21. Mount Yale | Sawatch Range | 14,200 ft, 4328 m
22. Mount Bross | Mosquito Range | 14,178 ft, 4321 m
23. Kit Carson Mountain | Sangre de Cristo Range | 14,171 ft, 4319 m
24. Maroon Peak | Elk Mountains | 14,163 ft, 4317 m
25. Tabeguache Peak | Sawatch Range | 14,162 ft, 4316 m
26. Mount Oxford | Collegiate Peaks | 14,160 ft, 4316 m
27. Mount Sneffels | Sneffels Range | 14,158 ft, 4315.9 m
28. Mount Democrat | Mosquito Range | 14,155 ft, 4314 m
29. Capitol Peak | Elk Mountains | 14,137 ft, 4309 m
30. Pikes Peak | Front Range | 14,115 ft, 4302 m
31. Snowmass Mountain | Elk Mountains | 14,099 ft, 4297 m
32. Windom Peak | Needle Mountains | 14,093 ft, 4296 m
33. Mount Eolus | San Juan Mountains | 14,090 ft, 4295 m
34. Challenger Point | Sangre de Cristo Range | 14,087 ft, 4294 m
35. Mount Columbia | Sawatch Range | 14,077 ft, 4290 m
36. Missouri Mountain | Sawatch Range | 14,074 ft, 4289.8 m
37. Humboldt Peak | Sangre de Cristo Range | 14,070 ft, 4289m
38. Mount Bierstadt | Front Range | 14,065 ft, 4287 m
39. Sunlight Peak | San Juan Mountains | 14,065 ft, 4287 m
40. Handies Peak | San Juan Mountains | 14,058 ft, 4284 m
41. Culebra Peak | Culebra Range | 14,053 ft, 4283 m
42. Ellingwood Point | Sangre de Cristo Range | 14,048 ft, 4282 m
43. Mount Lindsey | Sangre de Cristo Range | 14,048 ft, 4282 m
44. Little Bear Peak | Sangre de Cristo Range | 14,043 ft, 4280 m
45. Mount Sherman | Mosquito Range | 14,043 ft, 4280 m
46. Redcloud Peak | San Juan Mountains | 14,041 ft, 4280 m
47. Pyramid Peak | Elk Mountains | 14,025 ft, 4274.7 m
48. Wilson Peak | San Juan Mountains | 14,023 ft, 4274 m
49. San Luis Peak | La Garita Mountains | 14,022 ft, 4273 m
50. Wetterhorn Peak | San Juan Mountains | 14,021 ft, 4274 m
51. Mount of the Holy Cross | Sawatch Range | 14,011 ft, 4270.5 m
52. Huron Peak | Sawatch Range | 14,010 ft, 4270.2 m
53. Sunshine Peak | San Juan Mountains | 14,007 ft, 4269 m
https://www.nomadcolorado.com/colorado-hiking-guide/colorado-fourteeners checklist/
Website
Contact
MHRC
Email

[email protected]

Phone
Please contact regatta via email
Chief Referee
Not yet posted
Juniors
Yes
High School
No
Middle School
No
Collegiate
Yes
Open
No
Masters
Yes
Elite
No
Para
Yes
Inclusion
No
Entry Fees (USD)

| | Standard Cost |
| --- | --- |
| Entry Fee | $35.00 |

Plus taxes if applicable