Greater Chicago Juniors Rowing Championship
Hosted By Crystal Lake Rowing Club
Coming from I-90:
1. Regardless which direction on I-90 you are coming from, take the Randall Rd. exit. Randall Rd is west of the Fox river and the IL-31 exit as well as east of the US-20 exit by Hampshire. Go north on Randall Rd. when exiting the highway.

2. You will pass by Algonquin, Lake in the Hills, and then come to a Y intersection with a stop light. If you are going to the lake, you need to take a left (use the turn lane) onto McHenry Ave. If you are going to hotels in the Crystal Lake area, go straight on Rakow Rd. and continue to Rt. 31.

Continue to the Lake
3. Take McHenry Ave until you get to US-14 (Virginia St). Make a left turn.

4. If you have a boat trailer, you need to go through the next light (Dole Ave), then take a left onto Lake Shore Drive (see Landmark Map below for more detail). Use both lanes to make sure traffic does not try to get around you while turning. All other visitors need to take a left onto Dole Ave.
Boat Trailers
Lakeshore Dr. will go directly to the launch ramp. You need to make sure that either a member of the Crystal Lake Rowing Club or the Crystal Lake Park District is available to let you into this area if you are coming before race day. The launch ramp leads to Main Beach.
PLEASE OBEY THE CROSSWALK SIGNALS! DOLE AVE IS BUSY.
Parking
VOLUNTEERS WILL BE IN THE PARKING AREAS TO ASSIST AND DIRECT CREWS AND SPECTATORS
CERTAIN AREAS OF THE PARKING LOT MUST BE MANAGED FOR OTHER PARK DISTRICT PROGRAMS.
PLEASE FOLLOW THE DIRECTIONS GIVEN BY THE VOLUNTEERS.

Bus Parking
Bus parking will be in the main parking lot across from the beach house in designated areas.
Boat Trailer Loading, Unloading and Parking
Trailers will be offloaded on the street in a designated area and the boats will need to be carried into the park. The street will be closed to traffic for the duration of the event and the trailers can remain in the unload/load area.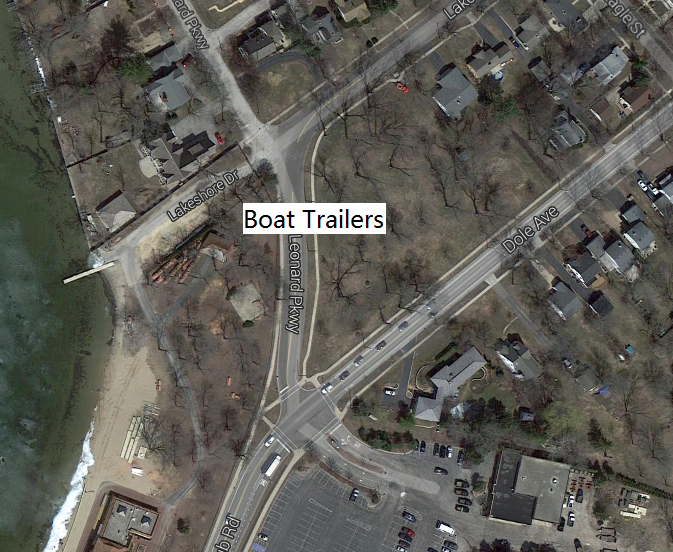 Public Parking
The parking will be available at the Main Beach parking lot, across (to the east of) Lakeshore Drive from Main Beach. Overflow parking will be available at the grassy area at the corners of Lake Avenue and Country Club Drive. Volunteers will be on hand to direct crews and spectators to available parking areas.