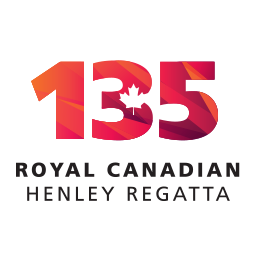 The 135th Royal Canadian Henley Masters Regatta
Aug 6, 2017

sprint
St. Catharines, ON (CAN)
Hosted By: Canadian Henley Regatta Joint Committee Corporation
April 1st 2017
Welcome Henley Masters! This year's competition will be held Sunday, August 6th 2017.
New 2017 - Club Entries Only: In keeping with Henley tradition, Henley Masters will only be accepting Club participants. No composite entries accepted.
New 2017 - Henley Masters Club Efficiency Award
Club Eligibility Roster: The Club Eligibility Roster rules are in effect for Henley Masters. Club Eligibility Rosters must be submitted on the deadline listed in the Registration Dates and Deadlines chapter of this website. Late additions to Clubs Eligibility Rosters are now subject to Schedule B late fees.
Order of Events and Event categories: Can be found in the List of Race Events chapter;
Event Entry Caps: Each Masters event has an entry cap. The LOC reserves the right to massage each event's cap based on a maximum number of races available per each day of competition in accordance to Rule 2.1 as outlined in the Rules, Regulations & Policy Chapter. The Wait List Policy will be in effect;
Handicaps: Based on the generous feedback received on the Royal Canadian Henley Regatta's inclusion of a handicap system the Henley Commission has implemented a Henley Handicap System (HHS) as recommended by the Competition Committee. Utilizing the Garrett-Zezza System, there will be handicapping within multiple-age-category events. No handicapping will be applied within single-age-category events. When handicapping is being applied, each age category will have a specific handicap based on the median Garrett-Zezza handicap for that age category. Given the nature and specifics of handicapping, the Henley Commission and it's partners support that this the most fair distribution of handicapping; all athletes within the same age category receive the same handicap. You can download a copy of the Henley Handicap System (HHS) here;
Late Entries: see Entry, Refund, Wait List & Late Entry Policy;
Coxswains: coxswains are permitted to race in both Henley and Henley Masters (as a coxswain only), and all coxwains are required to weigh-in as per Rules, Regulations and Policies.
Weigh-ins: see Rules, Regulations and Policies;
Regatta Office: will be open for Masters Only use Saturday, August 5th from 2:00pm to 5:00pm. Name changes, scratches and late entries (see Late Entry Policy) deadline is 4:00pm. The Regatta Office will then reopen Sunday, August 6th from 7:30am to 8:30am for scratches and medical name changes only. Please note that due to the introduction of the Henley Handicap System (HHS), in the event of a name change for a handicapped event entry, Sunday's name changes will only be permitted accompanied by a medical certificate;
Masters Training: the entire 2000m course will be open for training to all active competitors Saturday, August 5th from Noon to 5:00pm (dock closed 4:30pm). Masters training only Sunday, August 6th from 6:00am to 7:30am (dock closes 7:00am) with all boats off the water by 7:30am. Note that yellow cards will be issued for course violations to any crews training on the course outside of these hours or training in the top 1000m. Henley Masters training and racing course maps can be viewed/downloaded here;
Non-Compliant Clubs: all participating clubs are required to submit their Schedule A at the close of registration. All participants are also required to have their on-line Waivers completed and digitally signed at the Henley Regatta Registration System at close of registration.
There will be a brief Coaches Meeting prior to racing Sunday, August 6st at 7:00am at the Clerk's Booth.
Please visit our Daily Calendar section of the website for additional information.
Yours in Rowing,
Peter Scott jr.
Chair, Royal Canadian Henley Regatta