CRI Fall Classic Regatta
Sep 16, 2017

head/sprint
Boston, MA (USA)
Hosted By: Community Rowing, Inc.
2017 Registered Regatta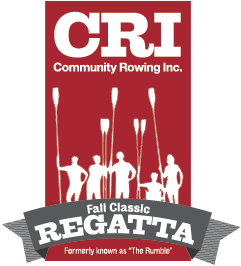 The CRI Fall Classic Regatta (formerly known as 'The Rumble on the River') is a FUN 3 mile Head Race on the Charles River. All rowers are invited to enjoy a free MUSIC FESTIVAL at CRI's amazing Harry Parker Boathouse during the afternoon. There will be food trucks, beer tastings, and really amazing local music, 5 bands playing from noon to 4 pm.
On-site Registration (packet pick-up only) opens at 7:30AM at CRI. Awards can be picked up at the Registration desk.
Coach and coxswain meeting will be held under the tent at 8:00am.
Parking at boathouse for registered trailers only. Car toppers will need to drop boats and park off-site.
Final schedule and draw is posted on HereNow LINK