CRI Fall Classic Regatta
Sep 15, 2018

head
Boston, MA (USA)
Hosted By: Community Rowing, Inc.
2018 Registered Regatta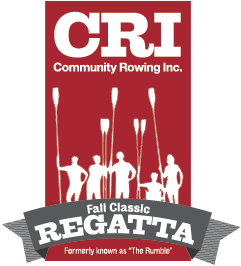 The CRI Fall Classic Regatta is an early-season 3 mile Head Race on a buoyed course supervised by US Rowing refs on the Charles River. All rowers are invited to CRI's amazing Harry Parker Boathouse. There will be food trucks.
Great new medals this year!
On-site Registration (packet pick-up only; bow and shirt numbers) opens at 8:00 a.m. at CRI. Awards can be picked up at the Registration desk.
Coach and coxswain meeting will be held under the tent at 8:30 a.m.
First race starts at 10:00 a.m.
Parking at boathouse for registered trailers only. Car toppers will need to drop boats and park off-site. Parking available (1) on North Beacon St. across the bridge, and (2) in Herter/Artesani parking lot 1.5 mi. down Soldiers Field Rd. Shuttle bus will run from Herter/Artesani parking lot to CRI.
Final schedule and draw will be posted on HereNow on Wednesday, September 12.
A copy of the Regatta Rules can be found on the website link below. Copies of a Course Map and a Bridge Arch Guide are attached to the Rules. Hard copies will be available at the Registration Table.