St. Mary's Crew Classic
May 5, 2012

sprint
Orchard Lake, MI (USA)
Hosted By: St. Mary's Preparatory Crew Booster Club
ST. MARY'S CREW CLASSIC

hosted by the St. Mary's Preparatory Crew Booster Club
Address: 3535 Indian Trail / Orchard Lake, MI 48324 http://www.stmaryscrew.com
The crews will race on Orchard Lake in the Village of Orchard Lake, MI. Facilities are available for booster tents and parking boats over-night on the grounds of St. Mary's Preparatory, Orchard lake, MI.
Please arrange through the Grounds Chair for over-night parking.
Handicap parking is available as well as race side drop-off. Golf carts will be available to transport those in need of consideration.
Road Closure: Indian Trail will be closed from 7:00 am - 2:00 pm on May 5th.
Viewing: The regatta does not have viewing stands. Please bring chairs or blankets for shoreline viewing.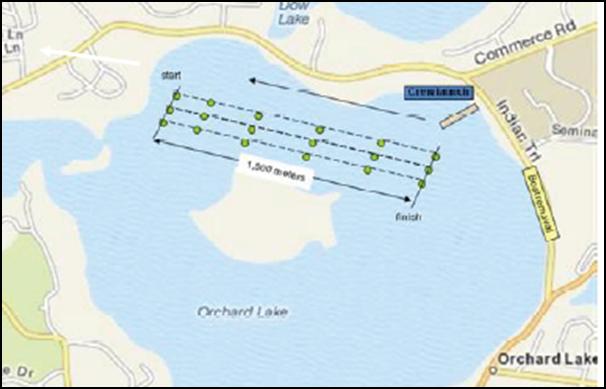 Parking: Please park in designated areas. There is no fee for parking.
Please see rules and eligibility for additional information regarding directions, course layout, and grounds.
St. Mary's Preparatory is a smoke free campus; please plan accordingly.