Australian Masters Rowing Championships
Apr 25, 2013

To

Apr 28, 2013

sprint
Canberra, ACT (AUS)
Hosted By: Rowing New South Wales
---
---
Archived news articles and media releases will be added here progressively. Please scroll down for past news articles and media releases.
Visit the Australian Masters Rowing Facebook page

or the Rowing Australia Facebook page

---
News Flash
25 April 2013
Todays Anzac Cup Challenge Race Crew List can be viewed here. Race commentary will provide more details of handicaps and crews.
News Flash
21 April 2013
Trailer parking instructions now available. Please read before you arrive and take note of marshals and signage to ensure your boats are stored safely and efficiently on arrival.
_________________________________________________________________________________________________________________
News Flash
17 April 2013
Bulletin 3 is now available
Public Transport
Information including instructions on how to access the regatta venue via public transport has now been updated and can be viewed under the Directions and Parking menu item.
Masters Dinner Bookings close this Friday
The last chance to get tickets for the Masters Rowing Dinner close this Friday 19 April 2013.
Details:
Celebration Dinner Flyer

Date: Saturday 27 April, 7.00 for 7.30pm
Venue: Yowani Country Club, 455 Northbourne Avenue, Lyneham ( 5 minutes from Canberra city centre)
Price: $40 to include main course, salad, desserts, tea and coffee with drinks at bar prices.
To book click here to complete the registration and payment.
For any additional information please contact mastersdinner@bmrc.org.au
---
News Flash
11 April 2013
Provisional Race Schedule Now Avalible
The Provisional Race Schedule (PRS) for the 2013 Australian Masters Rowing Championship, as of 22:00 on Wednesday 10th April, is now avalible. This Provisional Race Schedule is based on the number of entries received as of the close of entries and withdrawals received to date. It is provided to allow competitors the opportunity to assess their racing commitments and withdraw from events, without penalty, now that the likely race schedule is apparent.
All withdrawals received by 23:00 (AEST) on Thursday 11th April will be removed from the entry system without penalty or forfeiture of entry fee. Withdrawals can be made by emailing chris.grummitt@grummittconsulting.com noting the event name and number, club name, stroke's name and RegattaCentral boat ID. You will receive a confirmation email once the withdrawal has been processed.
---
News Flash
10 April 2013
Update on issuing of Preliminary Race Schedule
The record number of entries received has delayed the issue of the Preliminary Race Schedule. Issuing is now expected later this evening. The withdrawal without penalty will remain up until 11.00pm AEST 11 April to ensure other key deadlines do not slip. Please note, as is being advised on RegattaCentral, all club administrators and coaches are instructed to email all line-up changes and scratches directly to Chris.Grummitt@grummittconsulting.com. No individual requests for event changes can be accommodated after the close of the withdrawal without penalty deadline. We apologise for any inconvenience and appreciate your cooperation.
---
News Flash
9 April 2013
Entries closed last night with a record number of entries by crews of just over 1650. Almost 1100 athletes from 107 clubs in Australia, New Zealand and the USA are now registered to attend the event: we have close to an equal share of women and men participating in womens, mens and mixed crews, with athletes aged between 27 and 95 (the average competitor age being close to 56 for men and 51 for women). The Organising Committee is thrilled to be welcoming so many Masters competitors to Canberra in its Centenary year. Autumn in Canberra this year has been superb, fingers crossed it will remain so for the next few weeks! The ABC Stateline program recently showcased Lake Burley Griffin in all its glory on our beautiful Autumn mornings: you can watch the 4 min segment here.
Preliminary Race Schedule
You should expect the Preliminary Race Schedule to be posted on the RegattaCentral AMRC website shortly to enable withdrawal without penalty by 11.00pm 11 April 2013. Competitors wanting to withdraw can lodge a scratching (deletion) request through RegattaCentral.
Celebration Dinner
Remember to purchase your ticket for the Celebration Dinner on Saturday night: tickets are selling fast. View more information here.
Also check out the RegattaCentral AMRC website for recent information posted on Merchandisers, including food outlets and our Regatta Bar.
More information to follow later this week includes details on: The Opening Ceremony and special activities, medal presentations, the regatta venue and parking.
---
News Flash
28 March 2013
Entry closing date extended
The entry deadline has now been extended to Monday 8th April. Once entries have closed, whilst no late entries will be accepted, there be a withdrawal without penalty period which will end at 11.00pm (EDT) on Thursday 11th April.
Volunteers still needed
If you are able to spend some time assisting the Organising Committee with the running of the regatta then we would love to hear from you! Please contact: lyndell.wilson@webone.com.au
Deadlines for regatta village bookings
Premium club tent bookings and vendor facility bookings will close on 5 April COB. Please contact: gdth.styman@netspeed.com.au to reserve a place.
A further Bulletin will be issued in the week commencing 7th April with more information for competitors about the regatta village, events and competitor services.
We look forward to welcoming you to Canberra in 28 days!
---
Media Release
4 March 2013
Entries Open for 2013 Australian Masters Rowing Championships
Lake Burley Griffin, Canberra, 25-28 April 2013
Rowing ACT has been successful in attracting the 2013 Australian Masters Rowing Championships to Canberra as part of the city's Centenary celebrations. In a break from tradition, the event will be held to coincide with ANZAC Day.
CEO of Rowing Australia, Andrew Dee, said that linking the regatta to ANZAC Day was a promoter's dream.
"Holding our Australian Masters Rowing Championships in Canberra in its centenary year to coincide with one of the most significant days on the Australian calendar is a concept Rowing Australia is happy to support in full," Dee said.
Entries are now open and are expected to exceed 900 competitors from Australia and New Zealand ranging in age from 27 to over 85. In recent years a significant number of Australia's rowing Olympians have contested Masters events, and many are expected to compete in Canberra.
Lake Burley Griffin has long been regarded as the best rowing training venue in Australia, and one of the best in the world. It provides elite competitors and locals alike with minimal commercial traffic and long stretches of calm water. The 2013 Masters Championships will be held on a 1000-metre Yarramuni Reach course finishing at Weston Park, with crews close to spectators in a great setting. A special feature of this year's Masters event will be the inclusion of the inaugural Anzac Challenge Cup, which will see current and former military personnel and defence civilians from both Australia and overseas competing against one another.
Australian rowing has strong military links dating back to 1919 when an Australian Imperial Force crew stroked by Captain H.C. "Clive" Disher won the major eights event at the Henley Peace Regatta in England, held to celebrate the end of the First World War. The crew thereby won a special trophy, presented for the occasion by King George V. That trophy later became the King's Cup, which is still contested annually for the Australian men's interstate eights championship. To this day, too, the crew's achievement is recognised each year in Canberra when crews from the Royal Military College Duntroon, the Australian Defence Force Academy and the Australian National University contest the Disher Cup.
The ACT has been a major contributor to masters rowing in Australia since 1981. The former ACT Rowing Association held unofficial national masters events on the lake every year from 1981 to 1988, then in 1997 hosted the multi-sport Australian Masters Games Regatta. Canberra also hosted the first official Australian Masters Rowing Regatta in 1999 before again holding the Australian Masters Games Regatta in 2003.
The first regatta ever held on the lake, however, was the 1964 Australian Rowing Championships, which began on 30 April that year. The event proved lucky for the then Australian Amateur Rowing Council. Storms filled the new lake to capacity the day before racing, where a month previously rabbits had been frolicking on pasture!
Rowing ACT President David Bagnall is confident that clubs and crews contesting the 2013 Australian Masters Rowing Championships will experience a great competition venue in attractive surroundings at a beautiful time of the year.
"We have high expectations for 2013, especially with the 'once in a lifetime' link to ANZAC Day and the Canberra 100 years events", he said.
The event will run from 25-28 April 2013 and is proudly supported by the ACT Government Community Centenary Initiatives Fund.
Media Contact:
David Bagnall, 0447 582 537
---
News Flash
1 March 2013
Entries are now open via RegattaCentral.
Bulletin 2 is now available and includes information on: facilities at the venue; social activities; the preliminary program, progression system; and lake and course rules. Look for the Celebration dinner on Saturday night, 27 April 2013. You need to book and pay early!
We are pleased to advise an extension of masters age categories to include a "K" (85 years or more) division. This aligns our 2013 Masters event with FISA Masters Age Categories and better reflects the full range of masters competitors – a fabulous thing! The preliminary program on RegattaCentral has now been updated to include the range of K race events.
Preliminary Weston Park site and regatta village maps can also be found on the RegattaCentral AMRC website under the "Venue" tab in the menu.
---
News Flash
21 February 2013
Just under 10 weeks to go and the 2013 event is shaping up to be one of the highlights of Canberra's Centenary year. Bulletin 2 for the event is being finalised and will be published to coincide with entries opening, however there are a few things we thought it best to let you know now, given enquiries are starting to roll in.
New Entry System for 2013 Masters
Rowing Australia (RA) has confirmed that Regatta Central (RC) will be used for the 2013 Masters event. More Information on submitting entries is available here.
Seat Fees
As previously advised the Seat Fee for each event entered is $45, no charge for coxswains. This seat fee is inclusive of a Regatta Central administration charge of 8% on each seat entry. The decision to include the charge as part of the seat fee is a decision that has been made for the 2013 Masters only. Rowing Australia acknowledges that given competitors had already been advised the seat fee prior to the finalisation of the Regatta Central administration charge, then it would not be appropriate to increase the fee further. The Organising Committee is greatly appreciative of this outcome.
Entry dates and deadlines
Entries for the regatta will be open from 9:00am on Wednesday 27 February and will close at 1:59pm AEST on Monday 1st April.
Premium Club Tent Sites Available
A limited number of premium club tents located on the lakes edge with excellent viewing of the race course will be available for hire at a rate of $500 each. These 6m x 3m tents will be allocated on a first come first served basis with payment required in full to secure a tent booking. Please contact: Deb Styman: gdth.styman@netspeed.com.au.
Volunteers Needed!
We are still looking for a number of volunteers to assist us during the championships. For more details, please contact Lyndell Wilson: lyndell.wilson@webone.com.au.
We are looking forward to welcoming you to Canberra on the shores of Lake Burley Griffin. Special prize for the 100th entrant, as part of Canberra's Centenary Celebrations, so make sure you enter early!
---
Bulletin 1 is Now Available
12 December 2013
---
News Flash
29 January 2013
Indicative Program of Race Events Now Available
An indicative program of events is now available on the Regatta Central website. This program is the same as the 2012 Australian Masters Rowing Championships held in Ballarat, except there has been a minor change to the order on Day 4: moving the Womens Masters E 2x and Mens Masters F 2x to later in the session.
Race Days Expected Start and Finish Times
Racing events are planned to start at Midday on Thursday 25 April, and 8.00am on Friday 26, Saturday 27 April and Sunday 28 April. Racing events are expected to be completed between 4.30pm – 5.00pm on 25, 26, 27 April, and 3.00pm on 28 April. Heats, Semi-finals and Finals will be conducted based on the number of entries received and in accordance with the progression system. Consequently the days start and finish times outlined above may be revised after entries close based on the number of entries received.
Dates for opening and closing of entries will be advised shortly and details about: how to enter; the progression system; pre-competition information and rules; and full regatta program of activities, will be detailed in the event Bulletin No.2 to be issued early in February 2013 and available on the Rowing Australia website.
Anzac Day Special Events
In choosing to start the Regatta on Anzac Day, the Organising Committee (OC) is very aware of the importance of this day for many Australians. We have a number of events planned to commemorate this special day, including:
A Welcome Ceremony at 11.00am on 25 April at the regatta village which will include a small commemoration service prior to the commencement of the days competition; and
The Anzac Challenge – we are very pleased to be able to announce the inclusion of a special race on Anzac Day to be coordinated by the Australian Defence Rowing Association (ADRA). Rowing is now a recognised sport under the auspices of ADRA which aims to promote rowing as a sport within Defence, and establish a rowing presence in the wider Australian community. The history of rowing in the Australian military context dates back to 1919 when Captain H.C. "Clive" Disher, of the Australian Medical Corps, stroked the Australian Imperial Force (AIF) crew to victory against Oxford University in the final of the Inter-Allied Services event at the Royal Henley Peace Regatta in Britain winning the 'King's Cup'.
We are now calling for expressions of interest from current/ex-serving military members, and defence civilians to participate in this feature race on ANZAC Day 2013. Please refer enquiries and expressions of interest to the 'ADRA Captain of Boats', CAPT Nic Williams at nicholas.williams4@defence.gov.au, or nic-williams@bigpond.com.
The timing of this race on Anzac Day with be advised in future Bulletins.
---
News Flash
13 September 2012
Please book your accommodation early!
In Canberra's Centenary year, accommodation is expected to be highly sought after. General information on accommodation options can be found at the Canberra Tourism website under Accommodation.
The Organising Committee has a number of preferred accommodation suppliers for the event and these are listed below. These hotels are all close to the CBD and within 15 minutes' drive from the Regatta venue at Weston Park.
For further information on the Championships keep an eye out for the 1st Bulletin to be issued later this month, September 2012.
Preferred accommodation suppliers:
Capital Hotel Group
This group has three properties on offer, all located on Northbourne Ave and between 5–20 mins walk into the Canberra CBD: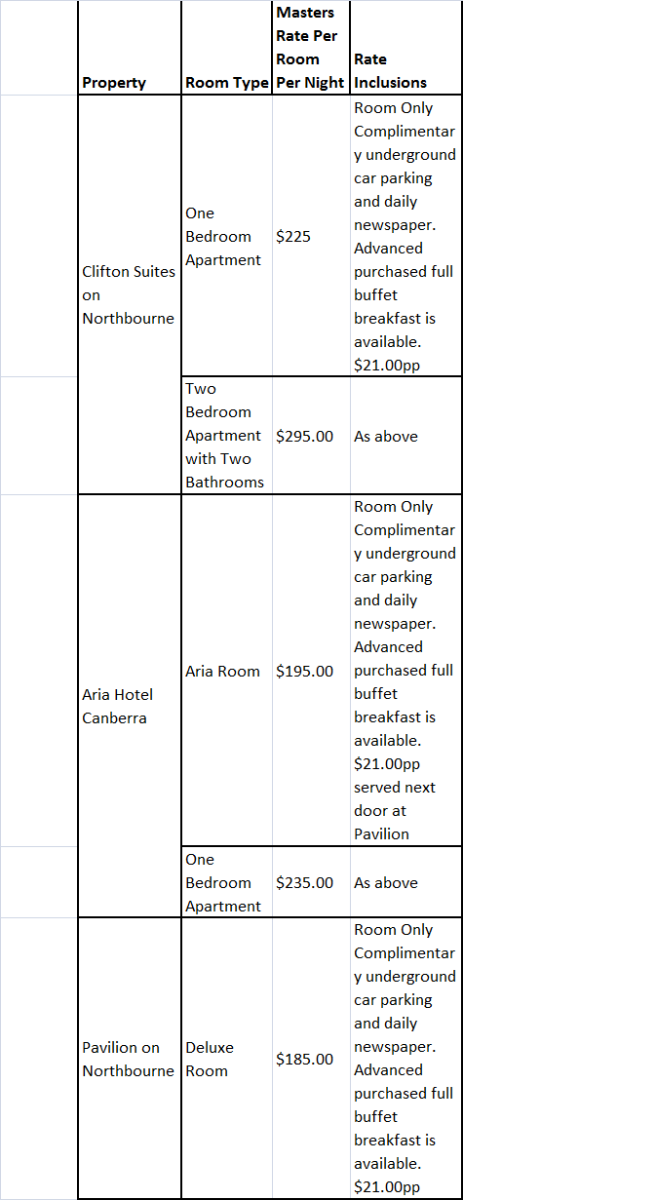 Contact details for these three properties:
www.capitalhotelgroup.com.au/
Phone: 1800 828 000
Booking Code: please quote the following booking code to access the Capital Hotel Group rates for the 2013 Masters: AMRC13
Crowne Plaza Canberra
All Participants, officials and supporters can save up to 20% off their stay when they book through the dedicated sports supporters' site. Click here to book your exclusive offer now or call 1300 662 218 and ask for the 'Canberra Sports rate' ($195 per room). You must enter check in/check out dates between 24 April and 28 April 2013 inclusive.
The hotel provides a complimentary business centre, along with complimentary access to the Pro-Fit Health Club with sauna and outdoor pool. Everyone who books a room via the sports supports site receives 20% off their full buffet breakfast (per adult) and a 2 for 1 drink voucher (per room) at Binara one Lounge Bar. Complimentary sports amenities will also be available in the room. For more information on the hotel visit www.crowneplazacanberra.com.au
Rydges Lakeside
The hotel is offering Standard Accommodation starting from $219 including a full buffet breakfast for two per room, per night. Single, twin, double share or suites are available – subject to availability. Free Wireless is available throughout the ground floor and Hotel Reception area.
Please contact the Rydges Lakeside Reservations team on 02 6247 6244 and quote the code X-2504AMRC to obtain the 2013 Masters Regatta rate. Please note you must quote this code to obtain the rate. For more information on the hotel visit: www.rydges.com/canberra