Covered Bridge Regatta
Apr 18, 2015

To

Apr 19, 2015

sprint
Eugene, OR (USA)
Hosted By: Oregon Association of Rowers
2016 Registered Regatta
Greetings and welcome to the 2015 Covered Bridge Regattas.
This year's regatta will take place over two weekends in April with the Masters (1000m) and Juniors (2000m) racing to be held on Saturday and Sunday, April 18,19 on our fully buoyed, 7-lane Dexter Lake race course. Saturday, April 18th - races for juniors, masters. Coaches' and coxswains' meeting at 6:15 under the picnic shelter. Races all day from 7:20 AM until about 6 PM on ten-minute centers. Sunday, April 19th - races for juniors, masters. Races from about 7:30 AM until 1 PM on ten-minute centers. Racing will end no later than 3 PM regardless of Inclement weather or other delays. A tentative race schedule will soon be available at www.regattacentral.com. Enter at www.RegattaCentral.com. between March 1st and the Deadline!!!! April 5th. Look for a 'final' schedule a few days later.
ENTRY LIMITATIONS: With the exception of single sculls, teams are limited to a maximum of one or two entries per event. In addition, all events also have a cap for total entrants. Entries beyond these limits will be wait-listed (and will likely be accepted after entries close). With the exception of single sculls events ($20), all events will cost $10/seat (coxswains free). In addition we must collect a $2.00 per athlete Oregon State Parks Usage Fee.
Note: there are several new events this year: Junior pairs, mixed masters 2x and 4x, masters novice 4+. All events will be "finals only" except the men's and women's masters singles which will have "heats and finals".
Have time to help with the regatta? Sign up here!
Follow us on Facebook for the most recent updates.
Save the date: Thursday, April 16th -
Monday, April 27th join us between 12 and 9 PM
Ninkasi Tasting Room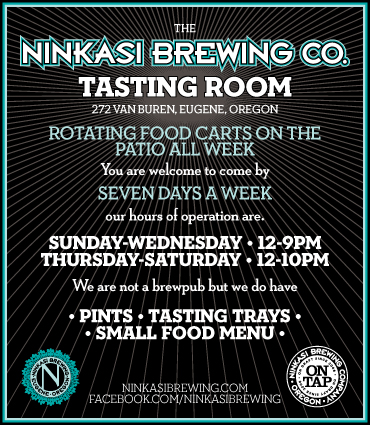 272 Van Buren, Eugene - 25% of all pints sales goes to the regatta!
(minors ok until 8 PM)