Head of the Des Moines
Sep 29, 2007

head
Des Moines, IA (USA)
Hosted By: Des Moines Rowing Club
2016 Registered Regatta
September 27, 2007
Construction Update. The City of Des Moines will be working on Hickman Road on Saturday. The construction should not pose a problem for regatta participants. The map below shows the roads and construction zone. See you on Saturday!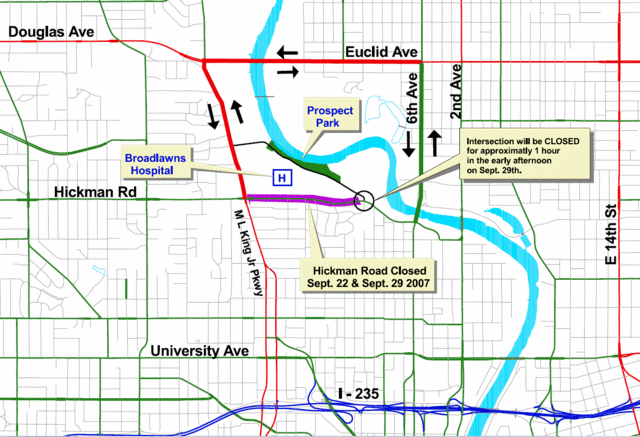 -----------------------------------------------
September 27, 2007Head of the Des Moines - News Flash
Check it out! The latest issue of the
Masters Rowing Association
magazine has a great article about the Head of the Des Moines regatta. Click
here
to read all about it.

-----------------------------------------------

September 12, 2007

GET READY to see more than 600 rowers from across the Midwest compete in over 60 races on the Des Moines River. GET SET to watch Olympic coxswain, Lesleh Heim, lead the Des Moines Rowing Club's men's eight to victory. GO to the 24th annual Head of the Des Moines regatta on Saturday, Sept. 29.
Sponsored by the Des Moines Rowing Club, the Head of the Des Moines is one of the oldest regattas in the Midwest and was named a premier regatta by the United States Rowing Association's Judge Referee Corps.
The regatta attracts athletes of all ages from clubs, high schools and universities who will race in eight-person shells, four-person shells, doubles, pairs and singles. Each race runs a three-mile up-river course from the Botanical Center to Prospect Park. The first race begins at 8:30 a.m. and the last race is at 5:00 p.m.
"The Head of the Des Moines Regatta is a significant event in the sport of rowing that attracts participants from as far away as Colorado," said Des Moines Rowing Club President Terry Hardy. "It also is a great event for the family to spend time in a relaxed atmosphere while they picnic and watch the big boats move about the grounds and on the water.  For those that have never attended a regatta of this sort it is a fascinating process."
This year's event will feature Lesleh Heim, who rowed on the Canadian National Team for ten years. She coxed Canada's women's eight in the 1984 Olympics, which placed 4th. Heim now lives in Carroll, Iowa and is the Midwest representative for Regatta Sport, a leading clothing manufacturer in the rowing industry and outfitter of the U.S. National Team. She recently rowed in the USRowing Masters National Championship in Tennessee and coxed three boats.
Heim will cox the men's eight at the Head of the Des Moines as well as other races throughout the day. She may also compete as a rower.
The theme of this year's event is "row with the flow," and will feature a logo designed by Grand View College art students. Poster and t-shirts featuring the design will be available at the course finish in Prospect Park. Spectators can watch the races from Prospect Park or along the bike path near Birdland Marina. The event is free.
The Des Moines Rowing Club has 150 members from the metro area. The club consists of rowers of all ages and skill levels who row on the Des Moines River and Gray's Lake. A novice program introduces people to the sport through a one-day trial run on Gray's Lake in May, and after testing the waters, interested rowers sign up for an 8-week training program that teaches the basics of rowing.
-----------------------------------------------
Head of the Des Moines - Letter to Participants
Hosted by the Des Moines Rowing Club


Saturday September 29, 2007

The Des Moines Rowing Club invites you to join us in Des Moines for the 2007 Head of the Des Moines Regatta. Saturday, September 29 is the day and this year marks the 24th anniversary of our hosting the Head of the Des Moines. We're proud to be a National Standard Regatta, as sanctioned by U.S. Rowing.

Our event is an exciting three-mile, up-river course. As in the past, we'll be awarding gold and silver medals to the top two finishers in each event, and traveling trophies for selected races. Our medals are custom designed, as are our T-shirts, posters, and programs. We will again be offering free breakfast food items at the beginning of the day and a picnic supper at the end of the day that may be pre-purchased.

This year we are using an online registration process through RegattaCentral. You can register for events, pay fees, sign waivers and obtain much more information about the Head of the Des Moines at this site. If you have any questions as you are registering, contact

[email protected]

.  If you have general regatta or registration questions, check the information for Head of the Des Moines at www.regattacentral.com or contact us at

[email protected]



Once again, we look forward to seeing you on the river September 29!

Regards,
 
Susan Aden   
Regatta Registration


-------------------------------------------------------
Regatta General Information


REGATTA DATE
The 2007 Head of the Des Moines Regatta is Saturday, September 29th.

REGATTA REGISTRATION AT REGATTCENTRAL.COM
Register online at www.regattacentral.com, where you can enter races, pay entry fees and sign waivers. Wednesday, September 26, midnight PST, is the deadline for pre-registration.  After this date, a $5.00 late fee for each boat entered will be assessed. Entries received after the September 26 deadline may be started at the back of the pack regardless of where they finished the previous year. Entries will not be taken by phone, fax, or email. All fees must be paid before bow markers will be issued. If you have questions as you are registering, contact [email protected].

OTHER REGISTRATION INFORMATION
For general regatta or registration questions, check the information posted for the Head of the Des Moines at www.regattcentral.com or contact us at [email protected]. Every effort will be made to reply in a timely manner. A Des Moines Rowing Club Registration Representative will be at Prospect Park on Friday, September 28, between 5:00 pm and 7:00 pm to accept changes or answer questions. Race Packets will be available on race day, September 29, after 6:30 am.

RACE COURSE
The race is rowed upstream and is a buoyed course. The start is located near the Des Moines Botanical Center. The finish is a point approximately 500 meters upstream from the Prospect Park launch area.  The course is approximately 3 miles in length. The 25-minute row to the start serves as a warm-up. 

COACHES AND COXSWAINS MEETING
The coaches and coxswains meeting is scheduled for 7:00 am at Prospect Park at the announcer's position near the launch site.

SCHEDULE
Races begin at 8:30 am. The final event should be completed before 5:45 pm. Breaks and lunch are built into the schedule and will be used to get back on schedule as needed. A schedule of events is enclosed. Please don't schedule the same equipment/people in races less than 90 minutes apart. This ensures that boats/crews have enough time to make the 25-minute row to the start comfortably. Boats will not be allowed to row outside their scheduled times, unless directed to do so by officials.
Should you wish to add a boat to a race, you must do so no less than 90 minutes prior to the scheduled starting time. If you wish to drop a boat from a race, notify registration and the dockmaster at least 45 minutes before the start of the race.
BOW MARKERS
Bow markers are assigned and included in your registration packet. Please return them to the registration table after each race.
CLASSIFICATIONS
The following definitions are used at this regatta:


Novice: Persons who have not competed in a USRA-sanctioned event prior to the current calendar year.
Junior: Maximum age is 18 as of 12/31/2007 and currently in high school.
Collegiate: Currently enrolled as a full-time student in a college or university.
Master: Minimum age is 21 as of 12/31/2007. Minimum average age of a crew is 27 as of 12/31/2007.
Grand Master: Age 50 or greater as of 12/31/2007.
Mixed Crew: Must have an equal number of each gender rowing in the boat.
HANDICAPS FOR MASTERS EVENTS
Handicaps for master events will use the US Rowing handicap calculation with a 5x multiplier. Handicap is figured on average age of the crew not counting the coxswain. Master rowers who fail to provide ages will not be given any handicap.
COLORS
All members of a crew shall wear shirts of a uniform design and color to help officials in identifying crews. Failure to wear team colors may result in inaccurately recorded racing times.
COMPOSITE CREWS
Composite crews (rowers from more than one crew in a boat)must register as such and must wear their own team's uniform. Composite crews are not eligible for team points.
PROTESTS
Any protests must be made in writing at the registration tent within 60 minutes of the race's finish. A $25 protest fee must accompany a completed protest form and will be returned if your protest is upheld. All protests will be forwarded to the head referee for consideration.
EQUIPMENT STORAGE
A secure area will be provided for storage of equipment and trailers at Prospect Park. Security personnel will patrol from 6:00 pm Friday to 6:00 am Saturday. Designated parking for boats and trailers will be clearly marked. Please obey signs.
REGATTA-DAY BREAKFAST
Complimentary breads, fresh fruit, water, and orange drink will be available in the morning at Prospect Park beginning at 7:15 am Saturday, until supplies run out. Snacks or lunches may be purchased from the on-site vendor.
POST-REGATTA PICNIC DINNER
If you choose to purchase dinner, please indicate number of dinners on Fee Summary form. Serving will begin at 4:30 for those who have finished competing. Tickets will be included in your race packet. There is a $7.50 charge for dinner for anyone ordering dinner.
MEDALS AND TROPHIES
Medals will be given out for first- and second-place finishers in all races throughout the day. They can be picked up at the registration table after the race results are posted as official. Any protested races must be resolved by a jury of officials before medals can be awarded.
Traveling trophies will be awarded as soon as possible after the last event of the day is completed. If you have a traveling trophy from the previous year, please send it, before September 1st, to:
Julia Martinusen
217 Franklin Ave.
Des Moines, IA 50314
Phone: (515) 720-9431

T-SHIRTS
If you have been to our past regattas, you're sure to remember our great, custom designed T-shirts. We promise another one this year that is equally as great as the ones that have come before!
SCOREKEEPING
We make every effort to provide rowers with final scores as quickly and efficiently as possible. The scoreboard will be located near the registration tent. Please direct any scorekeeping questions or issues to the registration tent.