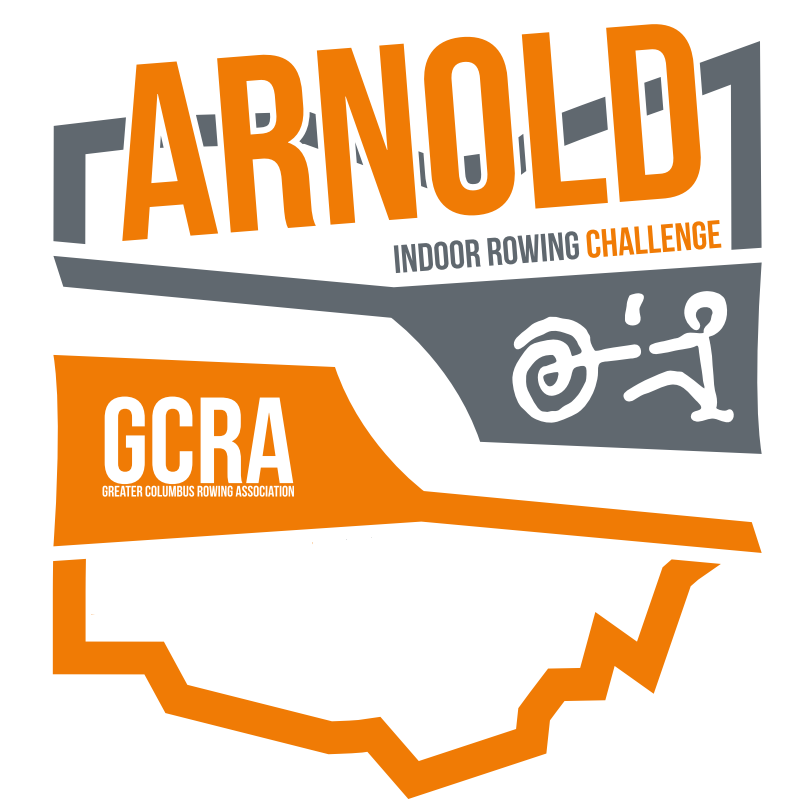 The Arnold Indoor Rowing Challenge
Mar 5, 2017

indoor
Columbus, OH (USA)
Hosted By Greater Columbus Rowing Association
USRowing Registered
Check this page for the latest information regarding the Arnold Indoor Rowing Challenge.
3/6/2017:
Results are posted under the results section.
3/4/2017:
Click this link for the updated event schedule with event times, heat #'s and erg assignments.
For a single PDF containing Event Overview, Registration and Race Day Information, and Event Classifications on this website, download the Regatta Packet here.
For Event Classification: see the 'Rules and Eligibility' tab at left
Registration Details and Race Day information, scroll below the latest news.
News
(2/28/2017) Online Registration has closed but we will have limited spaces available for same day registration at the event. We are currently using the online registrations to determine the final schedule. Check back for a list of the available spaces for same day entries.
(1/20/2017) T-SHIRT, free shirt qualification and pre-order ended February 19th.
(1/2/2017) Arnold Festival Wristbands: Wristbands are not required for entry to participate or watch the rowing events. However, event volunteers will earn a free wristband for their effort. Additional wristbands may be purchased
Registration:
Registration is through Regatta Central. Regatta Central Arnold Indoor Rowing Challenge. You will need to create a free account on Regatta Central in order to register for the event. The Registration Form is on the left navagation pane.
The Registration Fee for Individual events is $25.
The Registration Fee for Relay events is $80 per 4-person team.
Online registration is due February 27th, but there will be an opportunity to register onsite, for events that have not been filled.
As a USRowing registered indoor regatta, all competitors must sign a USRowing waiver. These can be signed online on Regattacentral.com, or at the event.
Competitors under age 18 must have a parent or guardian's signature (can be signed online on Regattacentral.com)
No refunds will be given after the entry deadline.
Race Day Information:
Event Schedule: The final times for events will be provided after the registration deadline of February 27th. Please allow for plenty of time on the day of the event to get to the event. If you miss the start of your event you will forfeit your entry.
Events with fewer than 6 entries may be combined in a single flight. Your time will count for the event that you entered.
Check in: Upon arrival, please check in at the registration desk. You will be given an information sheet that details your event#, flight#, erg#, warmup time and race time. Please keep that sheet with you at all times and give it to the race official that is overseeing the erg you have been assigned to race on. At the conclusion of the race, the race official will note your time on the sheet and you will be asked to initial it to verify the correct time.
Weigh In: Lightweight rowers should weigh upon Check In.
Warm Up: Warm up ergs are available in a staging area 15 minutes prior to a race.
Fan Setting: Competitors may set their ergometer to the fan setting of their choice, but may not alter these settings after the race has started
Awards: Medals will be awarded for First, Second and Third place in the individual events. Pint glasses will be awarded for First, Second and Third place Relays.
We will use the "News" tab of the regattacentral.com page to communicate any updates.
Relays:
Relays are the most exciting, loud, and energetic experience at the Arnold Indoor Rowing Challenge.
The total race is 2,000 meters. Each rower races for approximately 500 meters.
There is no stopping the race for transitions. Once the clock starts, there is no stopping until the last participants have completed 2,000 meters.
You may continue to log meters during transitions.