Lift Bridge Regatta
Sep 30, 2018

head
Fairport, NY (USA)
Hosted By: Fairport Crew Club Inc.
2018 Registered Regatta
Located on the Erie Canal, near the Village of Fairport, New York, U.S.A.
The race course runs from the flood gates at the intersection of the Canal with Interstate 490 on the west end, to Perinton Park near the Fairport Crew Club boathouse.
The coordinates for the boathouse are: 43.09906, -77.45657
State rules: ground stakes are not allowed for team tents. $1500 fine. All tents need to be anchored with weights only
~~~~~~~~~~~~~~~~~~~~~~~~~~~~~~~~~~~~~
There will be a Food Vendor at the race. Anyone who wishes may bring money to purchase food from the vendor.
All spectators are asked to park in the large parking lot for Qualitrol Company, LLC, next door to the Fairport Crew Club boathouse at 1385 Fairport Road (Route 31F), Fairport, New York. Almost the entire parking lot is available, and is only a short walk (0.1 mile) on the same side of the street to the boathouse. The entrance is 700 feet east of the intersection of O'Connor Road and Fairport Road. Please follow signs for the regatta parking so we don't use spaces needed by Qualitrol employees.
Although the lower lot at Perinton Park (listed as 'Spectator Parking' in the photograph, below) is available, we ask that you NOT park in that lot. Crossing Route 31F at that location is risky, so if you do park in that lot, proceed east toward the canal and walk to the boathouse on the canal path from Perinton Park instead of crossing Route 31F. For handicapped parking, only, use the upper parking lot at Perinton Park, and walk, or use your wheel chair, on the towpath to get to the boathouse (a relatively level pathway). PLEASE NOTE: O'Connor Road has moved and is now directly opposite Jefferson Avenue near the Mobil station on Route 31F.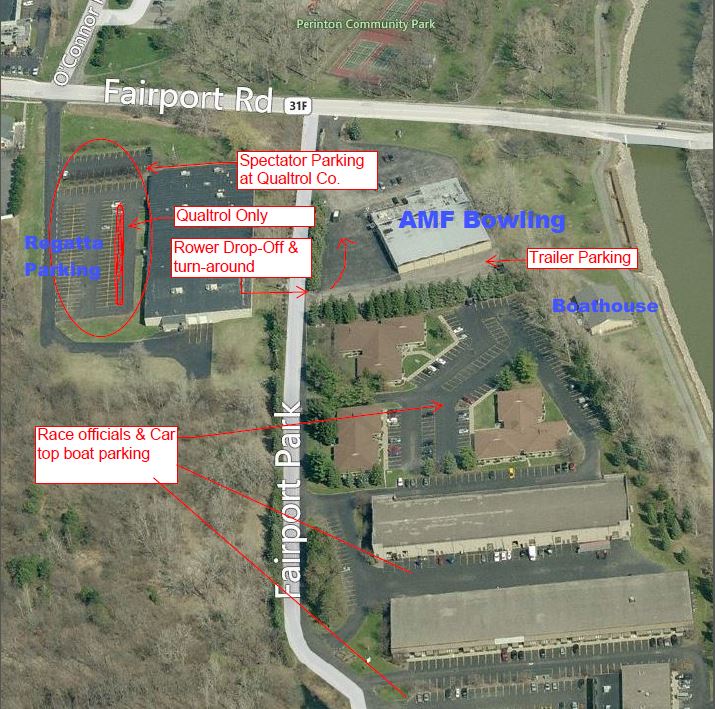 Restrooms are available in Perinton Park and in the boathouse. We ask that all spectators use the Perinton Park restrooms or the portable toilets near the boathouse and reserve the boathouse restrooms for athletes.
The race course map is below, and also shows the general location of the safety boat posts.