Frogtown Regatta
Hosted By: Toledo Rowing Club
2018 Registered Regatta
Philip LeBoutillier Memorial Boathouse
Address: 8 Main Street, Toledo, OH 43605
View on Google Maps
NOTE: The Miami Street entrance to International Park is closed. All visitors must enter through the Cherry Street/MLK Bridge.
Due to construction at International Park and lane restrictions on Cherry Street, please review the below directions carefully. If you have any questions, please contact the Executive Director at [email protected]

Parking is available on a first-come, first-served basis in International Park. Boat trailers and food trailers will take priority for parking in the lots designated on the Venue Map. Additional event parking is available on Riverside Drive directly across from International Park.

The Toledo Police Department will be directing traffic at the entrance to International Park, which is located on the Martin Luther King Jr. Bridge at the intersection of Cherry Street and Boyer Way.

Once the International Park lot is full, Boyer Way will be closed for the safety of our rowers and guests. Again, additional parking is available across the street on Riverside Drive.

Handicapped and Car Top parking are available all day pursuant to the Venue Map.
Thank you for your cooperation, and we welcome you to the 2018 Frogtown Regatta!
TRAFFIC MAP: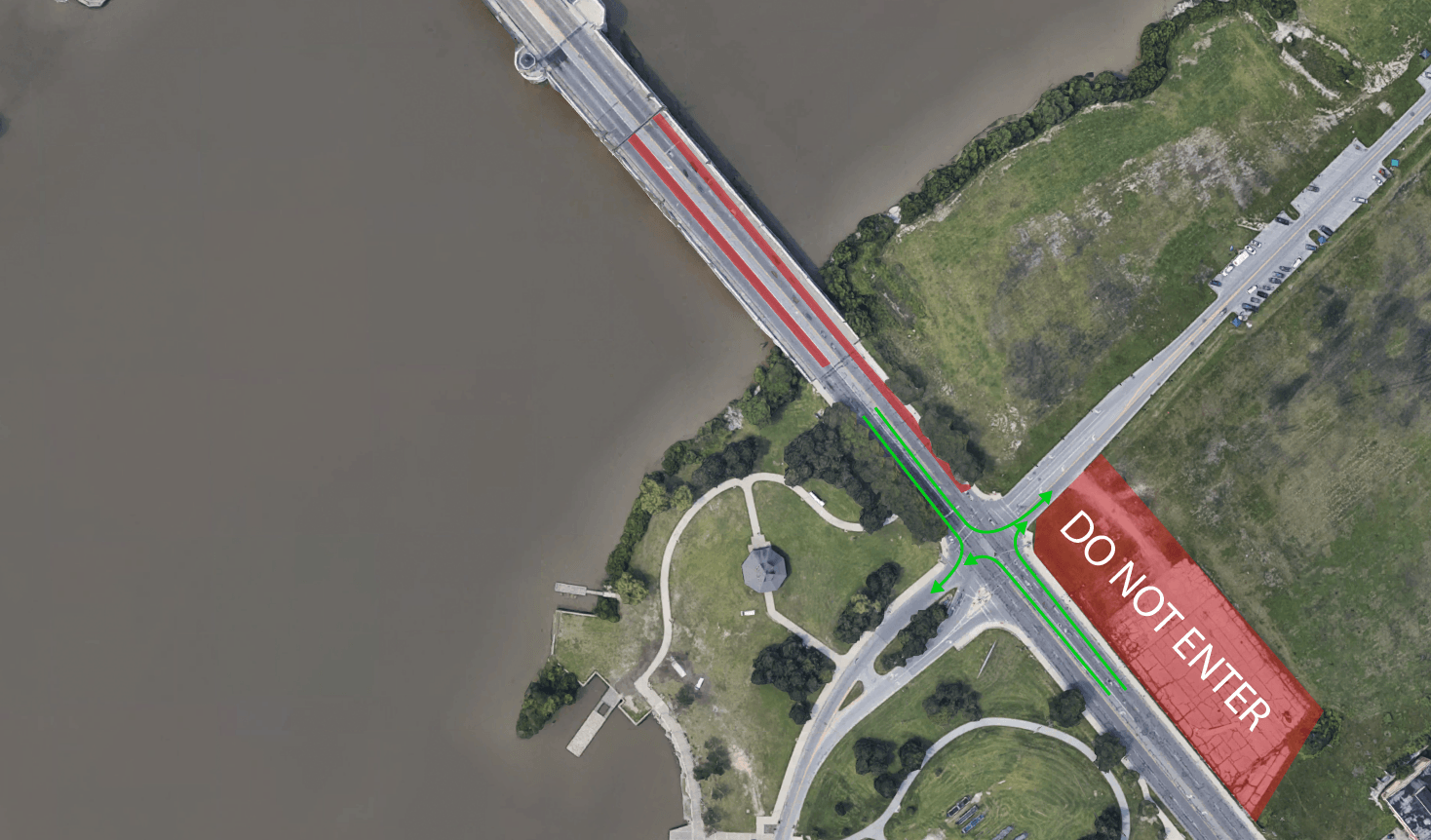 VENUE MAP: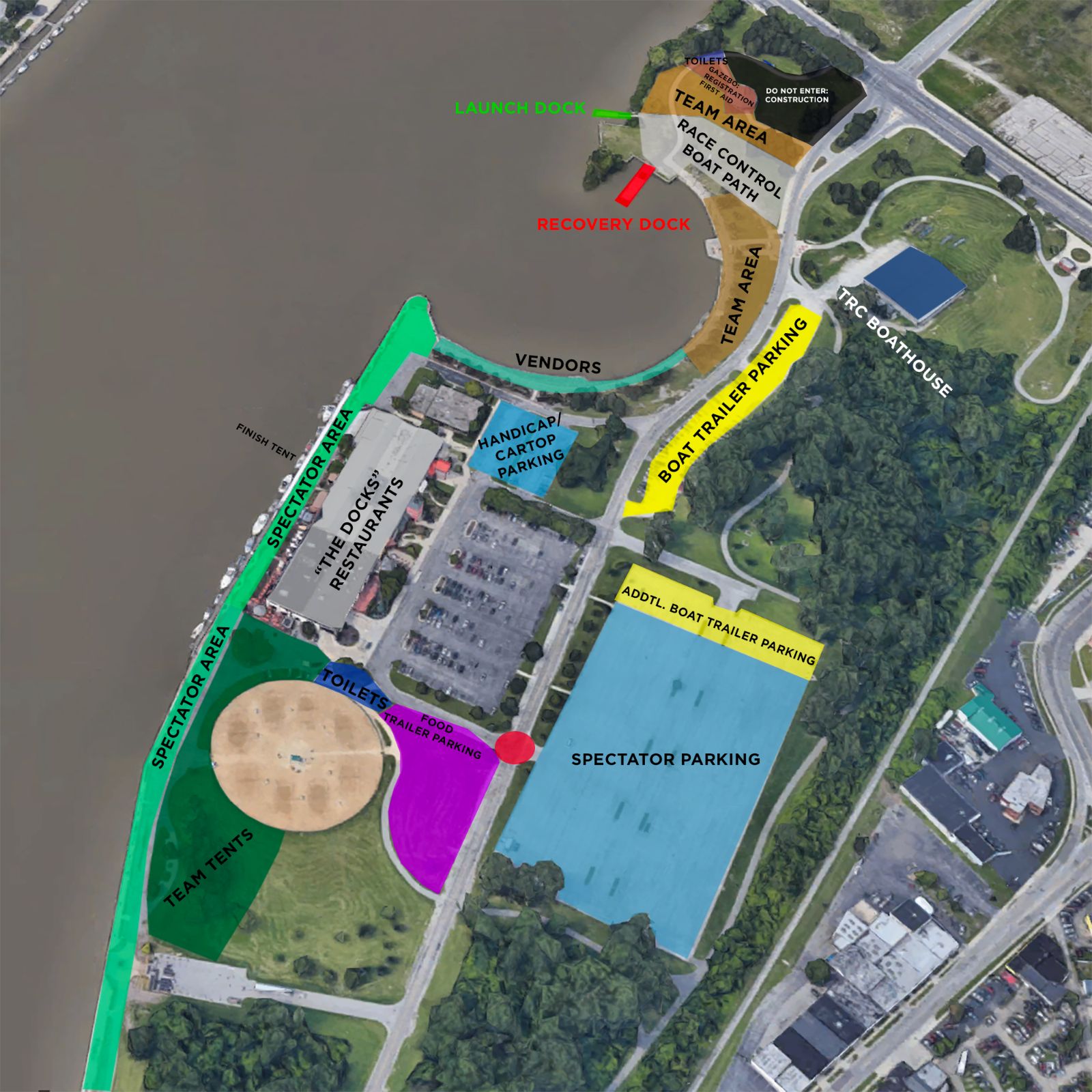 BOAT TRAILERS: To avoid downtown, you may use these routes:
FROM NORTH
From US-23 / Ann Arbor Area:

I-23 South
Take exit 232 on the left to merge onto I-475 E toward Toledo
Take exit 20A for Interstate 75 S toward Dayton, merge onto I-75 S
Take the Washington St exit toward downtown, use the right lane to merge onto Indiana Ave
Stay right and continue onto Washington St, turn left onto N Summit St, turn right onto Cherry St.
Continue on to Martin Luther King, Jr. Bridge
FOR BOAT TRAILERS ONLY: immediately after bridge, turn right into International Park

From I-75 / Detroit Area

I-75 South
Take exit 208 on the left for I-280 S toward Turnpike/Cleveland
Keep right to continue toward I-280 S
Take exit 11 to merge onto OH-25 S/Greenbelt Pkwy
Turn left onto Cherry St, continue on to Martin Luther King, Jr. Bridge
FOR BOAT TRAILERS ONLY: immediately after bridge, turn right into International Park
FROM SOUTH
Follow I-75 N:

I-75 North, take exit 201B for State Highway 25N (aka Anthony Wayne Trail)
Merge onto Anthony Wayne Trail, continue on S Erie St
Turn right onto Washington St, turn left onto N Summit St
Turn right onto Cherry St
Continue on to Martin Luther King, Jr. Bridge
FOR BOAT TRAILERS ONLY: immediately after bridge, turn right into International Park
FROM EAST & WEST BOUND OHIO TURNPIKE 80/90:
From 80/90 West or East:

Take exit 64 for Interstate I-75N, merge onto I-75N
Take exit 201B for State Highway 25N (aka Anthony Wayne Trail)
Merge onto Anthony Wayne Trail, continue on S Erie St
Turn right onto Washington St, turn left onto N Summit St
Turn right onto Cherry St
Continue on to Martin Luther King, Jr. Bridge
FOR BOAT TRAILERS ONLY: immediately after bridge, turn right into International Park