Head of the Buffalo Regatta
Oct 15, 2022

head
Buffalo, NY (USA)
Hosted By: Buffalo Scholastic Rowing Association

Cancelled
HOBR Course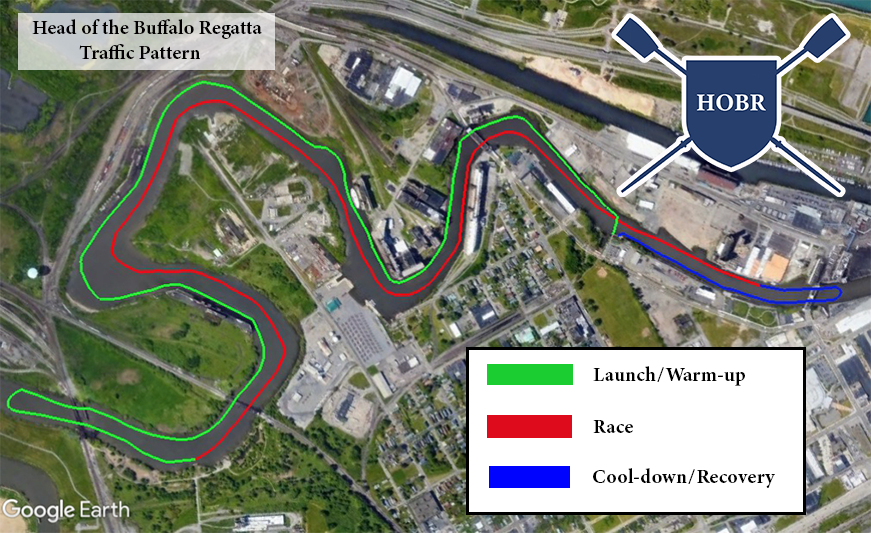 Course Length: 4350m
Boats come down to launch STERN first, then swing stern to the right.
Shells will be checked once for shoe ties, bow balls and bow clips.
Crews must row directly across the river if clear at a sharp angle and then row up the warm-up lane along the shoreline.
Crews warming up must stop and approach inside turns slowly when other crews are racing on the outside lane.
Coxswains should review maps, video's, and content under the Rules tab to take crew on the safest course to prevent penalties.
Crews should row as a full boat up to the start; this is not a time for drills.
Coaches should inform the Regatta Director (Mairead) and the Dock Master about hot seating situations with athletes or a shell.
Additional Course Information:
HOBR Site
Please note that there will be street closure on Ohio St. from Chicago St. to South Ave for this event.
If you'd like to view the race from the middle of the course, park near South Ave/Hamburg St./ Mutual Riverfront Park (41 Hamburg St, Buffalo, NY 14204). This is an exciting turn around Silo City.
Other viewing points: Ohio Street Boat Launch (other side of Dead Mans creek), please note this is a restoration site so please be respectful. Ohio Street bridge is also a great viewing point (park along Ohio St. near Rigidized metal and Silo City). Buffalo RiverWorks will also be an excellent place to view the finish line while having food and drink!
We are selling delicious and filling grilled chicken dinners. These meals are perfect for regatta day and consist of a 1/2 chicken, buttery salt potatoes, coleslaw and a roll. Pick up at BSRA on 10/15 between 11:30am-2:30pm. Purchase now to secure enough meals for you and your team: GRILLED CHICKEN MEAL PRE-SALE
We will also be selling chicken dinners the day-of, coffee, breakfast foods and snacks.