LBRA Christmas Regatta
Dec 4, 2022

sprint
Long Beach, CA (USA)
Hosted By: Long Beach Rowing Association
2022 Registered Regatta
Coach & Coxswain Meeting:
The in-person C&C meeting is at 4:30 pm at 7S on Saturday for any questions or clarifications. No C&C meeting on Sunday morning.
US Rowing Membership Portal
Be sure to have all of your club members login to the US Rowing Membership Portal to sign their waiver, renew membership and update their profile. A signed US Rowing waiver is required to race.
Pre-race Warm Up & Staging Areas - See Map
Pick up bow numbers no more than 60 minutes prior to your race start time. Warm up area is the far side of Davies Bridge. Follow the traffic pattern.
RED buoys – Proceed to far side of Davies Bridge for warm up until 15 minutes prior to race start time.
YELLOW buoys – Proceed to staging area between Davies Bridge along beach before the start no more than10 minutes before race start time.
GREEN buoys – Proceed to area behind start boat no more than 5 minutes prior to race start time.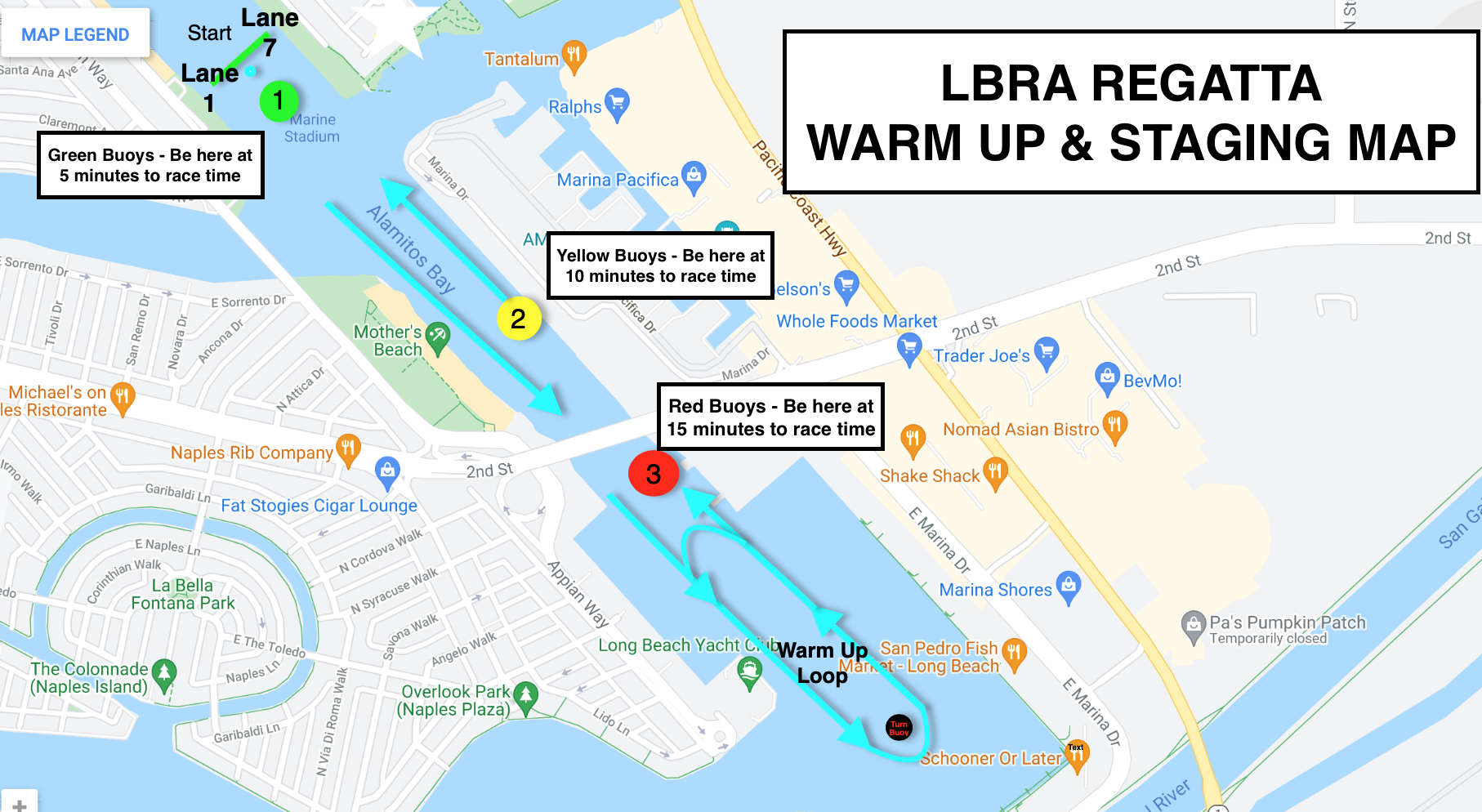 Boat Launch and Retrieval on the Beach – See Map
All boats to be LAUNCHED from START side of 500-meter pole located in the middle of the beach (see map).
All boats to be RETREIVED at end of race from FINISH LINE side of 500-meter pole.
BOW NUMBERS - THIS IS IMPORTANT!
Pick up your bow numbers at the 500 M pole no more than 1 hour from race time.
LETTERS i, O and Q will NOT be used


ALPHA-NUMERIC BOW NUMBERS
Bow numbers consist of a letter in alphabetical order followed by a number that represents your lane assignment. Looking at the start list above, the letter after your event number is the first letter in your bow number. The lane you are assigned is the number in your bow number.

EVENT
In the entry list, each event will have a number, the same number that was listed with the event when you signed up. Events are based on the size and type of boat and the age of the crew and are unique for this regatta.

FLIGHT
The plan is to start each flight 5 minutes apart. Event 1 is the first flight. This regatta will have about 110 flights. There are up to 7 boats in each flight.

LANES
Lane 1 is along the beach, while lane 7 is along the boathouse side.

HEAT
Each event may have between 1 and 5 heats. Each event have various amount of heats, depending on the popularity.

WHY DO IT THIS WAY?
In large regattas internationally this a commonly used system. It easily gives each crew an idea how long it is until their race, referees can easily find a missing boat or see if boats are in the correct area, according to the start list.

On the water, if you see a boat with bow number 'B2' pulling up to the stake boats, while your own bow number shows 'H4', you will know there is 6 letter/ flights between their start and your start, which equals 30 minutes. The number proceeding the letter indicates the lane assignment for that event. Each heat are planned to be 5 minutes apart.
The letter on the bow number identifies which event and which heat. If you are a spectator waiting for a specific race, refer back to the start list to be able to identify which category the event and which heat you are looking at.

Bow Numbers may be picked up no more than 1 hour prior to race, at a table by the 500 meter pole (on boathouse side, by the dock).

Bow numbers will be collected and reused throughout the day, so please make sure to return them quickly.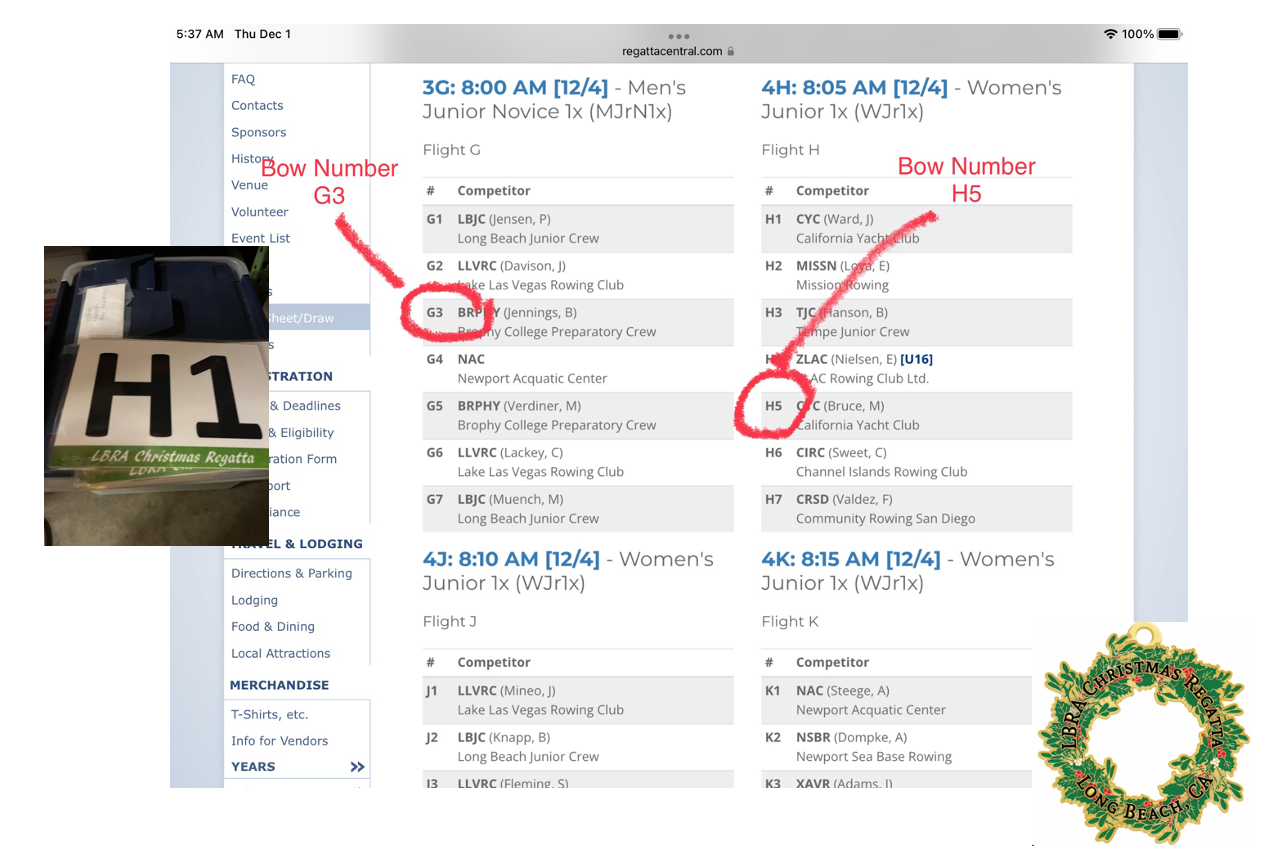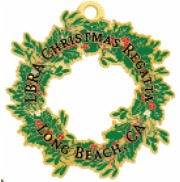 LBRA Christmas Regatta Information Packet
Website
http://www.longbeachrowing.org/events/christmasregatta/
Contact
Hanne Chupik
Email

[email protected]

Phone
(562) 2084943
Sanctioned by
Chief Referee
William Eldon
Juniors
Yes
High School
Yes
Middle School
Yes
Collegiate
Yes
Open
Yes
Masters
Yes
Elite
No
Para
Yes
Inclusion
No
Entry Fees (USD)

| | Standard Cost | Late Cost |
| --- | --- | --- |
| 1x | $55.00 | $80.00 |
| 2x/2- | $70.00 | $105.00 |
| 4x/4x+/4+ | $100.00 | $150.00 |
| 8+ | $140.00 | $210.00 |

Plus taxes if applicable
Max entries
625 entries. This venue has a restriction on how many entries are permitted. Registration is closed when this cap is reach ( or the deadline passes, whichever occurs first.)