USRowing Southwest Regional Masters and U16/U17 Championship
May 30, 2015

To

May 31, 2015

sprint
El Sobrante, CA (USA)
Hosted By: USRowing
2016 Owned Regatta
Regatta Parking - San Pablo Reservoir
Online parking pass sales are now closed. Parking passes will be available for purchase at the event.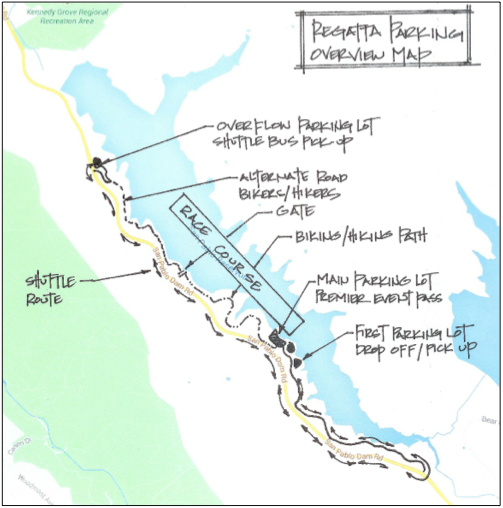 Premier Event Pass Holders
Those with Premier Event Passes may park in the main parking lot at the South boat launch area of San Pablo Reservoir. Passes may be picked up at the first parking lot; pass holders should bring a copy of their receipts as proof of purchase. Premier Event Passes provide in and out access for the regatta.
Athlete Drop-off and Pick-up
Athlete drop off and pick up will occur at the first parking lot. If the driver does not have a Premier Event Pass, they must turn around at the first parking lot and proceed to the Overflow Parking Lot. No one will be allowed to proceed past the first parking lot without a Premier Event Pass.
Overflow Parking
Parking for those without a Premier Event Pass will be at the lot at 7301 San Pablo Dam Road. The parking fee will be collected by the attendant at the kiosk. Attendees may get to the Regatta either by shuttle bus or by the hiking/biking trail.
Shuttle Bus – Turn left after the kiosk and follow the signs for "Regatta Parking" up the hill to the lot. Shuttle busses will pick you up there and transport you to the regatta site. Please allow 30-40 minutes for the bus once you are parked.
Hiking/Biking Trail – Turn right after the kiosk and proceed down the road until the road dead-ends at the gate, approximately 1/2 mile. Park along the road and proceed down the hiking/biking trail to the Regatta. Note that the trail is approximately 1-3/4 miles long and should take about 35 min walking and 15 min biking. Follow all posted signs for parking.
Note: Parking along San Pablo Dam Road is prohibited. Cars parking along San Pablo Dam Road are subject to ticketing and towing.