Erg Sprints | World Rowing Para Indoor Championships
Feb 18, 2018

indoor
Alexandria, VA (USA)
Hosted By: Alexandria Crew Boosters Club, Inc.
2018 Registered Regatta
The official event schedule is posted at www.ergsprints.com/schedule. Minor changes are possible so please check back Friday, February 16.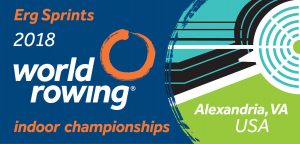 Registration for Erg Sprints Para World Rowing (2k) and
Concept2 (1k) Indoor Championships.
All 2k participants are required to be FISA Classified.
All participants (1k and 2k) must fill out the Classification and Sport Category Verification form with options to indicate current Classification, to self-Classify, or to "not Classify" at all. Please note, the "not Classify" option requires a mandatory Saturday fitting session visit by the competitors to have their choice of sport category validated by race officials.
Limited FISA Classification opportunites will be available on Saturday, February 17, 2018. Make requests to [email protected].
EXTENDED - Registration closes February 7, 2018.
The Classification and Sport Category Verification form is due to Mark McAndrew [email protected] by February 10, 2018.
All participants are required to sign the USRowing waiver. Visit the Waiver page for more information.
Race ergs are still available for purchase. Reserve yours on RegattaCentral or by emailing [email protected]
Register on RegattaCentral for the non-Para events.
Website
http://www.ergsprints.com
Contact
Regatta Director
Email

[email protected]

Phone
email prefered
Sanctioned by
Chief Referee
Not yet posted
Juniors
Yes
High School
No
Middle School
No
Collegiate
No
Open
Yes
Masters
Yes
Elite
Yes
Para
Yes
Inclusion
No
Entry Fees (USD)