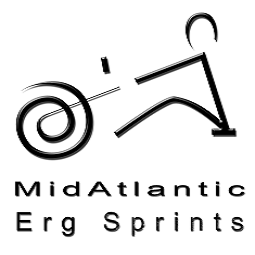 MidAtlantic Erg Sprints
Jan 30, 2016

indoor
Alexandria, VA (USA)
Hosted By: Alexandria Crew Boosters Club, Inc.
2016 Registered Regatta
The 2016 MidAtlantic Erg Sprints were a great success with 2,004 entries from 127 clubs. Results and photos are posted on the website. We look forward to seeing you again Saturday, February 4, 2017.
Erg Sprints is on. 180 ergs arrived Wednesday from Vermont and have been assembled. Parking lots are being cleared and the weather for Saturday looks great...46 degrees and mostly sunny. See you then.
Erg Sprints online registration has ended. Late registration will be available for events 11-332 Saturday, January 30 however seating is not guaranteed.
Doors open at 7 AM. Check-in closes 1 hour before scheduled event time. Allow enough time. Lightweight rowers weigh-in before check-in. Athletes must be in the warm-up room 1/2 hour before the scheduled event time.
The schedule has been posted.
A USRowing waiver is required. If you signed one online you are set. Paper waivers will be available at check-in. Minors must have one signed by a parent or guardian.
Parking at TC Williams fills early. Consider parking at First Baptist Church on King Street and taking the free shuttle. They will drop you off right at the door.
Website
http://www.ergsprints.com
Contact
Regatta Director
Email

[email protected]

Phone
Please contact regatta via email
Sanctioned by
Chief Referee
June Harper
Juniors
Yes
High School
Yes
Middle School
No
Collegiate
Yes
Open
Yes
Masters
Yes
Elite
Yes
Para
Yes
Inclusion
No
Entry Fees (USD)