USRowing Masters National Championships
Jul 20, 2023

To

Jul 23, 2023

sprint
Indianapolis, IN (USA)
Hosted By: USRowing
USRowing Owned
EVENT UPDATES
7/21-10:42AMWe are excited to share that we have been able to reschedule all of the races (events 43-53) that were cancelled yesterday afternoon due to weather, to the end of day on Saturday! We currently do not expect weather to be a risk on Saturday and the original Saturday schedule had room for us to extend the day. Please note that if inclement weather does come in on Saturday, we will review if hosting these events continues to be possible.

Click here for the updated schedule.
7/20-3:55PMWEATHER UPDATE: Due to severe thunder storms coming, event 42 (Women's Open AA-A 4x) will be the last race of the day. Events 43-53 will be cancelled for the remainder of the day. At this point these races are cancelled and will not be rescheduled, however we will reassess and make a decision tomorrow morning if we can add these events to another day.
Please continue to secure your equipment as low as possible to the ground, secure your oars and evacuate the venue.
7/20-3:39PM IMPORTANT: Due to predicted high winds this evening, crews should strap all boats down, secure oars in the boat lay down area or at your trailer, and store away any additional equipment that may be impacted by the wind before leaving the venue this evening.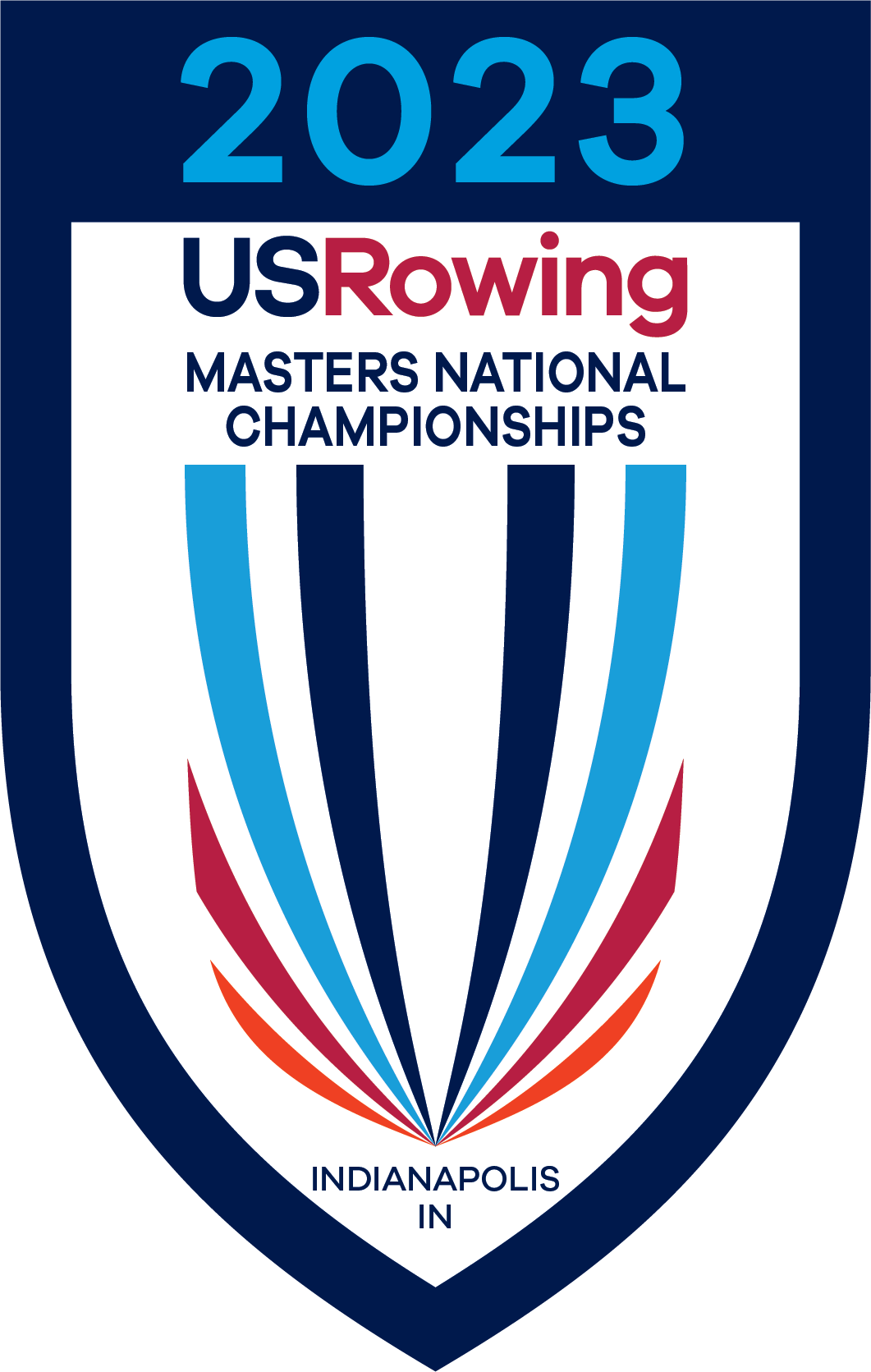 Event Text Alert Sysem
Text "Masters2023" to +1 (609) 354-7711 to receive texts from USRowing! We will send out event updates, weather alerts, and any scheduling changes that may occur. Please share with your team, spectators and more!
________________________________________
Schedule, Heat Sheets, Results
Click here for the schedule.
Click here for the heat sheets.
Click here for the results.
________________________________________
Parking Maps
Click here for the 2023 USRowing Masters National Championships Traffiic Pattern Maps.
________________________________________
Coaches and Coxswains Meeting
Click here to register for the Coaches & Coxswains meeting (Monday, July 17, at 7:00 p.m. EDT).
Click here for the Coaches & Coaches meeting slide deck. *Please note that we do not have the recording of the C&C meeting as we encountered severe thunderstorms last night and connection was not stable. Please use the above meeting slide deck for your reference.
________________________________________
Schedule of Events
Click here to view the Schedule of Events.
____________________________________
Visit Indy
Click here to view the Top 10 Things to Do in Indianapolis.
____________________________________
Volunteer Sign Up
Click here to sign up to Volunteer at the 2023 USRowing Masters National Championships. All teams are required to have one volunteer per team to work a shift. Please click here for the USRowing Volunteer Policy.
____________________________________
Register Your Trailer
Click here to register your team trailer or car topped boat. All teams are asked to fill this out so our venue can best accomodate your arrival time.
________________________________________
Team Tent Rental
Click here to reserve a team tent at the 2023 USRowing Masters National Championships.
________________________________________
Coach/Support Staff Roster Reminder
As it was in 2022, USRowing is asking all coaches and support staff who will need access to the team restricted areas, such as the launch and recovery docks & trailer areas etc., to also register for this event on RegattaCentral. When logging in, you will see on the left hand side of the webpage, a tab that is labeled "SafeSport", where you will input coach and support staff names, and then SafeSport compliance will be checked. All coaches and support staff must be on this list prior to the start of the event, and must be compliant with the Safesport requirements, to receive accreditation wristbands upon arrival to the venue.
Website
https://usrowing.org/
Contact
Regie Robinson
Email

[email protected]

Phone
609-751-0711
Information Packet
Sanctioned by
Chief Referee
Cindy Whitehead
Juniors
No
High School
No
Middle School
No
Collegiate
No
Open
No
Masters
Yes
Elite
No
Para
Yes
Inclusion
Yes
Entry Fees (USD)

| | Standard Cost | Late Cost |
| --- | --- | --- |
| 1x | $99.00 | $139.00 |
| 2x/2- | $149.00 | $189.00 |
| 4x/4+/4- | $249.00 | $279.00 |
| 8+ | $299.00 | $339.00 |

Plus taxes if applicable