USRowing Central Youth Championships
May 6, 2023

To

May 7, 2023

sprint
Oklahoma City, OK (USA)
Hosted By: USRowing
USRowing Owned
EVENT UPDATES
5/7- 12:10 PM
All remiaing racing has been cancelled for the day.
5/7- 11:23 AM
The following races have been cancelled due to high winds.
Men's Youth 2-
Women's Youth 2-
Men's U17 4+
Women's U17 4+
Men's U17 2x
Women's U17 2x
Men's Youth 4-
Women's Youth 4-
Please note that the other U17 events that are on the water already will continue to race.
5/7- 10:30 AM
The Men's and Women's U16 events have been cancelled for today, due to wind.
5/7- 9:30 AM
Please be aware that the starts may be Quick Starts today, due to wind. Please prepare your crew that this may happen.
5/6- 9:00 PM
Our latest update (as of 8:30 p.m. CT) from the National Weather Service states that tomorrow is predicted to have similar conditions as we experienced today.
We will delay racing until 9:30 a.m. CT tomorrow morning. This will allow for teams to have additional time to rig boats. First launch will be at 8:50 a.m. CT.
We will continue to monitor winds/conditions throughout the day. If we need to cancel any races due to conditions tomorrow, we will cancel in the following order.
All U15 boats
All U16 boats
All U17 boats
All Youth boats
Thanks to everyone for being flexible as we make the safest decision possible! We're excited to continue to race tomorrow morning.
Please click here for the updated schedule.
5/6- 5:38 PM
We checked in with the National Weather Service and they have confirmed that at this time (5:30 p.m. CT) it appears that the storm will be staying south and not effecting the venue.
According to our most recent weather update, relocating trailers does not seem to be needed. Please continue to monitor the weather on your own, as weather in Oklahoma may change at any time.
We will send out our final email by 9:00 p.m. CT tonight on the viability of racing tomorrow.
5/6- 3:17 PM
USRowing, the Central Youth Council, and the LOC have been closely monitoring the weather.
Our last update from the National Weather Service is that this evening has potential winds up to 80 mph and potential golf ball size hail.
At 5:30 p.m. CT, we will announce our update from the National Weather Service to determine the storms proximity to the venue area. If necessary we will provide advice on if trailers should be relocated and give recommendations on where to park.
In abundance of caution, all teams must start de rigging their boats and loading their trailer in preparation to leave the venue in the case that the storm is severe tonight. All team tents must be taken down and cleared from the venue by tonight.
By 9:00 p.m. tonight we will make a final decision on the viability of racing tomorrow.
We can confirm that ALL non-qualifying events on Sunday will be cancelled. This decision is final and will not change depending on our 9:00 p.m. CT update. This decision is being made to prioritize and ensure we have enough time to host the qualifying events, knowing that we need enough time to re rig in the morning, if we move forward with this plan.
Thank you for your flexibility while we try to make every effort to allow for finals racing tomorrow in a safe environment.
5/6- 10:40 AM
We are seeing predicted high winds upon our weather review for this evening. We are currently reviewing a potential equipment shelter plan, and will keep teams updated throughout the day.
We are requiring all team tents to be completely taken down after racing concludes today.
We have not made any adjustments to tomorrow's racing schedule and will continue to keep everyone updated on if adjustments are needed.
5/5- 6:52 PM
USRowing and the Central Youth Council have reviewed the upcoming weather/wind predictions for the weekend.
With winds and wind gusts increasing in the afternoon of both Saturday and Sunday afternoon , we are currently planning to stick with time trials on Saturday and sprint racing on Sunday.
We will be moving the Time Trial centers on Saturday to 8 minutes, with the exception of between the Men's/Women's 2x's and 4+'s where we will have 10 minute centers, in oder to accommodate the weather.
We do not expect a change in the weather, but we send out another update before 9:00 p.m. CT tonight.
Please click here for the updated schedule.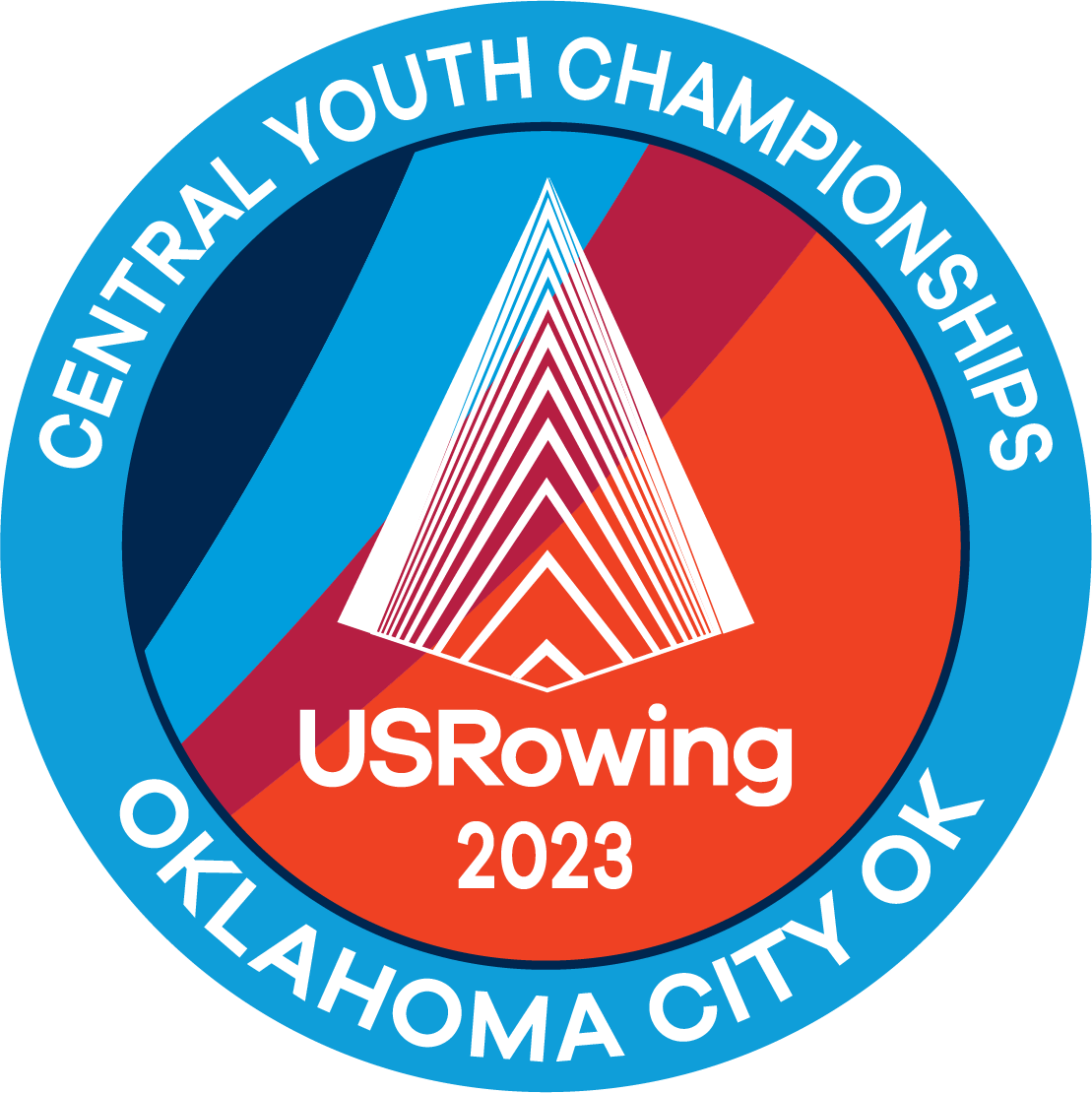 Live Stream
Click here
for the event live stream.
________________________________________
Heat Sheets/Schedule/Results
Click here for the event schedule.
Click here for the heat sheets.
Click here for the race results.
________________________________________
Coach/Support Staff Roster Reminder
As it was in 2022, USRowing is asking all coaches and support staff who will need access to the team restricted areas, such as the launch and recovery docks & trailer areas etc., to also register for this event on RegattaCentral. When logging in, you will see on the left hand side of the webpage, a tab that is labeled "SafeSport", where you will input coach and support staff names, and then SafeSport compliance will be checked. All coaches and support staff must be on this list prior to the start of the event, and must be compliant with the Safesport requirements, to receive accreditation wristbands upon arrival to the venue.
________________________________________
Coaches & Coxswains Meeting
Click here to register for the 2023 USRowing Central Youth Championships Coaches & Coxswains meeting (May 2, 2023, 7 p.m. CT/8 p.m. ET).
Click here for the Coaches & Coxswain meeting slide deck.
Click here for the Coaches & Coxswains recording.
________________________________________
Volunteer Sign Up
Click here to sign up for a volunteer position at the 2023 USRowing Central Youth Championships.
________________________________________
Traffic Patterns