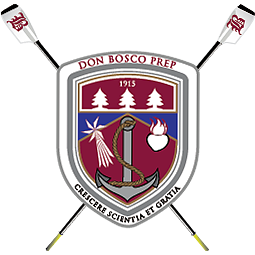 Ironmen Erg Classic
Feb 1, 2014

indoor
Lyndhurst, NJ (USA)
Hosted By: Don Bosco Preparatory High School
2016 Registered Regatta
Welcome to the 2014 Ironmen Erg Classic
The following information and race procedures are provided for the convenience of the participating athletes, their coaches and spectators. Should you have any questions, please contact the race organizers. The race organizers may make corrections or changes to this information and these procedures before on-line registration closes.
The Ironmen Erg Classic will be held at the newly, and beautifully, renovated King's Court Health and Sport Club in Lyndhurst, New Jersey. The competition floor will be in the facility's large indoor practice field. Spectators will be relatively close to their athletes to allow enthusiastic, but tasteful encouragement. The competition hall will have a large screen showing the progress of each rower during their competition. Athletes will be able to rest, stretch and warm up on ergs in the athlete warm-up room located on the second floor near the competition floor. The food court, serving basic beverage and food, across from the athlete warm-up room, provides a place for spectators and others to relax before heading down to the competition floor to watch their favorite athlete(s) compete.
General Information
This is the first Ironmen Erg Classic! As such we are still working out the kinks but we expect the day's activities to run generally as follows:
Early events start at 8am and run to about 11:30 (Masters, 7-8 grades, Coxswain, Freshmen, Novice)
Late Events start at Noon and should end before 3pm (Lightweights, HS Open)
Lightweight weigh-ins 9:00am to 11:30am
Check-in ends 30 mins before first heat of event
Athlete Check-in:
Athlete check-in and registration opens at 7am in the Food Court room on the second floor. All competitors are required to submit their best time (or best estimate) for 2000 meters. The race organizers will set up flights that are evenly matched using the times submitted. All competitors must check-in & pay any balance owed at the registration desk and complete the two waivers, if not done online, prior to their event. Walk-in registrations are $30; acceptance of walk-in registrations is at the sole discretion of the Race Director.
Rowers and their coaches are expected to complete the check-in process in at least one hour before the rower's event to allow the rower to become oriented to the facility and to warm up before the event.

Assume there will be a line. It is the responsibility of the rower to be at the venue early enough to complete check-in. Refunds will not be granted for late arrivals.

Lightweight weigh-in closes at 11:30 am. No exceptions
Waivers: All rowers must sign a liability waiver(s) either when registering online or when checking in. We reqiure two waivers, the USRowing waiver and the waiver for the venue. Minors (under 18) must have a parent or guardian's signature. No exceptions.
Spectator Admissions: Admissions for spectators will be $5 per person/ $10 max for family. Children under the age of 10 will be free.
Parking: Athlete, coaches and spectator parking will be in the parking garage under the building. There is no charge for parking.
Schedule:
Event times are approximate and the schedule is subject to change. The schedule as printed on race day

is the best estimate of when an event will begin. Rowers and coaches must allow sufficient time in advance of the scheduled event to accommodate any adjustments in timing that may be required.
It is possible that smaller events will be combined to race at the same time. If the demand for an event is greater than expected, efforts will be made to accommodate those rowers.
There are no heats; finals only. Warm-up ergs are provided in the warm up room.
Conduct, Safety, Health:
Proper sportsmanship and decorum will be observed by rowers, coaches, and the audience. Rowers are expected to be properly attired for competition, including shirts. Race officials reserve the right to ask any person who is not behaving in a sportsman-like way to leave.

The Ironmen Erg Classic will have medical-trained staff on the race floor to provide immediate care as needed. The Referee or medical staff has the authority to pull an athlete for medical reasons at any time.

If you have a health issue or are feeling ill before, during or after the race, inform your coach and the medical staff who are stationed on the race floor so they can better respond if an emergency arises.

Be smart about what you eat in the hours before a race. Do not eat dairy and heavy foods that are hard to digest. Make sure you are sufficiently hydrated. If you have any questions ask your coach!
Cancellations. A snow date has been scheduled for February 8, 2014. If the event is cancelled due to extreme weather we will post a notice on our website about the alternative date. Unfortunately we cannot offer refunds if an athlete cannot participate on the snow date or if extreme weather causes cancellation of the snow date.
T-Shirts. Each Middle School and High School athlete rowing in the Ironmen Erg Classic will receive one t-shirt. We cannot guarantee you will receive the correct size. We do our best to have sufficient quantities in all sizes. Extra t-shirts may be available for sale toward the end of the day.
Eligibility
Age eligibility is determined by rower's age on race day.

Lightweight Events: Men-165lbs max, Women-135lbs max

Junior rowers may enter events designated for older high school ages, but may not enter younger age events.

You may not row for a sick or absent person. If you do so, you will be disqualified.

Coxswain Events:

A participant must have been exclusively a coxswain in competition (not an oarsman or oarswoman) during the previous year.

Coxswains do not need to weigh-in
Consolidating Events We reserve the right to combine events depending on the number of entries.