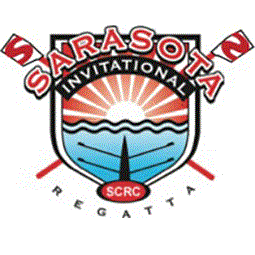 Sarasota Invitational
Feb 28, 2015

To

Mar 1, 2015

sprint
Sarasota, FL (USA)
Hosted By: Sarasota County Rowing Club, Inc/dba Sarasota Masters
2016 Registered Regatta
UPDATED: 02-26-15:
REVISED 02 - 26 - 15: TEAM BUSES:
Drop off is on the upper roadway as you enter the first bridge. This area is one way traffic.
After dropping off rowers, team buses will move SOUTH on Cattlemen Rd.
Team buses will park in the grass lot at the south end of the lake.
In the case of inclement weather possibly developing during the day, we may have buses come back to the upper loop drop off area and park in two rows should rowers need to get on buses for warmth, etc.
Bus drivers must remain reachable during the day.

REVISED 02 - 26 - 15: HEAT SHEETS:
Heat Sheets continue to be updated as scratches, etc come in.
Heat Sheets posted on Regatta Central are accurate as of Thur, 02-26-15 at 10:30am.
Please check your entries and contact us if you note any conflicts.

REVISED 02 - 25 - 15: TEAM TENTS:
You may bring your own tents, or you may elect to rent a tent from Nathan Benderson Park.
Rented tents spaces are still available; please contact Sarah Kupiec at SANCA asap.
SEE CONTACTS TAB FOR MORE INFORMATION.

REVISED 02 - 24 - 15: MASTERS SCHEDULE ADJUSTMENTS:
Masters Womens 2- (Event 42) and Masters Womens 2X (Event 44): in order to enable rowers who wish to participate in both of these events, we have moved the Pair event to immediately after the Masters Mens 1X (Event 38), starting at 9:50 am.
Masters Mens 2X (Event 45): is now in two flights.
Masters Mens 2X (Event 45): is moved to immediately before the Masters Mens Novice 4+ (Event 41) at 10:06a. This will allow more time between the 2X and the Masters Mens 4+ at 11:10 a.
UPDATE 02 - 24 - 15: REGATTA POLICY ON DRONES:
The SIR is committed to rower safety, and ensuring fair competition for all racers. Therefore, in order to better ensure both of these components, we have elected to prohibit unauthorized use of drones for our regatta in 2015.

RENTAL EQUIPMENT
Coming from out of town? No problem. We have a Rental Fleet available, including boats from:
RESOLUTE RACING
WIN TECH RACING
SARASOTA SCULLERS YOUTH ROWING
SARASOTA COUNTY ROWING CLUB - MASTERS
For information on equipment rentals, please visit the Contacts tab to the left.
EARLIEST ARRIVAL ON SITE ON FRIDAY, 02-27: 12 p
There is no security on site prior to 9 am Fri.
FRIDAY AFTERNOON PRACTICE SESSION: 1p to 6p
ALL boats MUST be OFF the water by 6p SHARP.
Failure to do so may result in penalties being assessed to Saturday / Sunday races.
C&C MEETING: COACHES, COXSWAINS & BOW PERSON FOR BLIND BOATS:
Meeting will be in the bleachers at the finish line or inside the tent if the weather is poor. Times:
Saturday: 7:00 a.m.
Sunday: 7:30 a.m.
WEATHER PREPAREDNESS: YOUR SAFETY IS YOUR RESPONSIBILITY
At this time of year, the weather can change quickly.
All personnel must be instructed to bring rain gear, extra clothes, dry socks, etc.
In the time between 7 am and 5 pm, temps can rise and fall signmificantly, there may be rain, etc.
Dockmasters have been asked to watch the attire of launching crews, but this is not their primary responsibility.
Anyone going out on the water must prepare for changing conditions while on the water.
Referees and regatta personnel have the authority to prevent a boat from launching if there appears to be an issue with insufficient clothing.
In our inaugural year, a micro-burst weather event changed the on water conditions quickly -- this can happen anywhere at any time in any venue. Rowers must default to safe choices.
We are watching the weather daily. If you see potential deterioration in the weather, please ensure that your team has proper additional materials such as blankets, sleeping bags, towels, etc, are available to your rowers.
US ROWING WAIVER IS REQUIRED: SIGN ON-LINE!!
> We recognize that sometimes there can be a discrepancy between the waiver report and the signing of waivers.
> However, we must have hard copy proof of your waiver.
> This can be the Regatta Central Waiver Report, a US Rowing team list of waivers (must be e-mailed by you to director@sarasotainvitational.com and received by no later than Wed, Feb 25), or if you are an unaffiliated rower you may e-mail us the confirmation you receive from US Rowing acknowledging signing of your waiver for 2015.
HOT - SEATING:
> You must advise the Control Commission before leaving the launch dock that you will be hot seating.
> You will need to allow enough time to exit the course, row around the island to the recovery dock, land, get in another boat, then row all the way down to the southern end of the course, and around the wave attenuator to get back in position - a total distance of about 3000 meters!
> You should allow at least 30 minutes as a minimum transit time.
COOKING IN TEAM TENTS:
You MUST have an extinguisher at hand.
WAVE ATTENUATOR :
Is now complete to southern end of lake. It is to be utilized for official regatta use only.
COACHES ONLY BIKE PATH :
Be sure to bring your own bike --
On the western shoreline, we have a new dedicated 'coaches only' ride along path.
Traffic pattern on Coaches' path is NORTHBOUND only.
To reach the Start Line area, you will ride south on a separate path on the far side of the coaches' path.
SPECTATOR BIKES :
Spectators are welcome to bring their bikes to utilize throughtout this beautiful facility.
All public areas are accessible, except only coaches are allowed on the Coaches' Ride Along Path.
There is a secondary path which is available to Spectators on the west side of the Coaches' path.
BOW NUMBERS: BRING YOUR OWN
We will be racing in up to eight (8) lanes.
ICE :
Bags of ice will be available for sale at the Nathan Benderson Park merchandise tent for $ 5.00 per bag.
DOGS :
Dogs are allowed in the park as long as they are on fixed length 6' leashes (not retractable leashes).
You must pick up after your dog; you must supply your own bags.
GOLF CARTS :
As the venue build out continues and walking distances have significantly shortened, the need for golf cart rides is reduced. Only a limited number of golf carts will be on site this year, and they will be designated for official regatta use only, however if one is needed to assist handicapped individuals or those who cannot walk from the parking lot, we will assist whenever possible. If this transportation is necessary, please contact a regatta support volunteer.
See www.worldclassrowing.com for more information about Benderson Park.
< END >