Head of the Ohio
Oct 6, 2007

head
Pittsburgh, PA (USA)
Hosted By: Three Rivers Rowing Association
2016 Registered Regatta
Yes, you'll race under every one of the bridges pictured

©Thomas Buell Jr.
Race past PNC park

Boats are stored between PNC and Heinz Field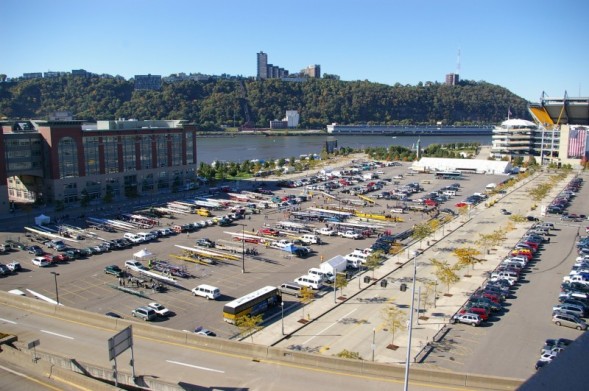 ©Thomas Buell Jr.
A view of the parking lot. Plenty of room!

©Thomas Buell Jr.
Finish Line Picture. Docks are just beyond the finish with
plenty of spectator room and tent area along the shore.
The 2.6 mile course is on the Allegheny River with the start line just below the 40th Street Bridge in front of a mooring cell near the top of Washington's Landing (formerly Herr's Island) on the right descending bank.  Washington's Landing is the home of the Michael P. Lambert boathouse and is in close proximity to our Millvale facility. The finish line is just below the Fort Duquesne Bridge less than 500 meters from the confluence of the Allegheny, Monongahela, and Ohio rivers in downtown Pittsburgh.
For most of the event's history, this has been an excellent course marked by rowing under nine bridges and finishing within the cityscape of downtown.  Occasionally the water at the finish line has been choppy but only judged unrowable once.
In addition to rowing, the Head of the Ohio will feature a wide variety of outdoor activities and entertainment for all ages at North Shore Riverfront Park – the site of the finish line.  Adults can enjoy the race on the Steward Ship which will be docked at the finish line.  Relax with friends aboard the Party Liner.  Sample sumptuous food and drink while cheering the competitors across the finish line.  People of all ages can enjoy watching the race from the water by hopping in a dragon boat near the Heinz Field boat ramp.  Experience the beauty of Pittsburgh's rivers and shoreline while rooting for your favorite rowers.
Line the banks during the second annual Lottie McAlice Race, named for Lottie McAlice who - in 1870 - at the age of 16 beat Maggie Lew in a one-mile sculling contest on the Monongahela River.  In honor of these first female rowers and to celebrate the renewal of our rivers, the Three Rivers Rowing Association established the Lottie McAlice Race as part of the Head of the Ohio Regatta.  The race is open to female rowers aged 14-18 and will culminate in a specially designed prize to the winner.  See the next generation of Olympic hopefuls as we crown the outstanding female rower.   
Visit our food and entertainment area on the Great Lawn where you can enjoy music and activities designed for everyone.
All rowers will enter the water from the Heinz Quay at North Shore Riverfront Park.  Please see the "Directions and Parking" section under Travel & Lodging for more information.