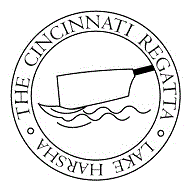 Cincinnati Regatta
Apr 1, 2017

sprint
Cincinnati, OH (USA)
Hosted By: Clermont Sports Development Corporation
2017 Registered Regatta
Event Categories:
Frosh/Novice must be an academic Freshman or in the first academic year of
college rowing.
Mixed events should have an equal or greater number of female rowers to male rowers.
Gender: Only males may row in Men's events. Only females may row in
Women's events.
Coxswains: Coxswains may be of either gender, and of any skill or age
classification. There is no weight minimum for coxswains.
Waivers: All participants must have completed a US Rowing Waiver online by the date listed under deadlines.
Race Schedule: Heats and lane draws will be available on regattacentral.com on Thursday, March 31, 2016.
Constituting a Race: If an event does not have at least three entries from
different teams, the LOC reserves the right to cancel the race.
Boat Storage: Boats are to be stored in marked areas only. Please provide your
own boat stands and secure all boats not in use. Trailers will be allowed in the areas marked.
All equipment must be removed from the regatta site by sunset Saturday evening.
Coaches and Coxswains Meeting: A coaches and coxswains meeting will be
held under at the Maupin Pavilion at 7:00am Saturday, April 1, 2017.
Weighing Boats: Boats will not be weighed
Quick Release: Check your equipment for race readiness, including the proper
tying of heels (3 inches). Releases will be checked at the dock as the boats
approach the launch area.
Bow Balls: Bow balls must be secured to shells before launch. Shells without
bow balls will not be allowed to race.
Bow Numbers: Please bring your own bow numbers.
Hot Seating: Hot seating is at the discretion of the Coach.
Late to Start: All crews must be on time to the start area. On time means in the warm-up area and ready to move into the stake boats 10mins before race start time, and locked on by 5mins prior to race start time. The start will not be delayed for a late crew.
Protests: Protests will follow the USRowing rules of racing. Any crew wishing to
protest should raise their hands after completing their race. Coaches should
formally register their written protest with the registrar and pay the protest fee.
Protests will be adjudicated by USRowing officials.