ROWtoberfest
Oct 14, 2017

head
Chicago, IL (USA)
Hosted By: Chicago Rowing Foundation
2017 Registered Regatta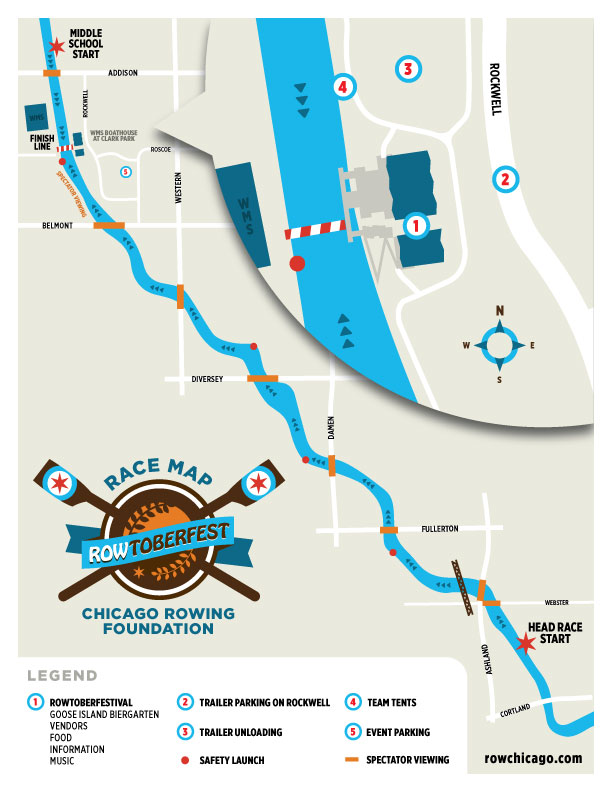 The Course (The Chicago River)
The link below is a slide show that takes you through the course. There are important details for each coxswain to read and understand. Remember to follow the right hand rule, listen to directions and safety always comes first.
https://plus.google.com/110428335311236229749/stories/e66458b8-f71d-3df4-9e60-66da94b7776b1474ea0d89f/1?authkey=CPzqhaKKoMerYQ
Trailer Parking
Trailer Parking is available on Rockwell Street, south of Addison Street. Teams can begin parking at 6:00 p.m. on Friday, October 17th and overnight security will be available.
Team Tents
Team tents can be erected adjacent to the Chicago River on the west side of Clark Park (east bank of the Chicago River) on a first come, first serve basis. Due to Clark Park being a Chicago Park District facility, please only use propane gas if bringing grills - charcoal is prohibited for this event.
Event Parking
Event parking is available at DeVry University Chicago parking lot, access off of Rockwell Street at 3300 North Rockwell or 3300 North Campbell. Overflow parking is available at Lane Tech College Prep High School (2501 West Addison Street) with parking lot access south of Addison on Western Avenue.
WMS Boathouse at Clark Park
The WMS Boathouse at Clark Park is located at:
3400 North Rockwell
Chicago, IL 60618
Spectator Viewing
Spectator viewing is available in numerous locations including:
WMS Boathouse at Clark Park 2nd Floor viewing area
West side of the Chicago River at Roscoe/Chicago River adjacent to the WMS building
Bridges along the race course including Webster, Ashland, Fullerton, Damen, Diversey, Western, Belmont, Addison (Middle School only)
Food and Vendors
Food is available at ROWtoberfest including:
Goose Island Assorted Beer (11 a.m. to 6:00 p.m., alcohol must be consumed in enclosed Biergarten)
Goose Island Bavarian Soft Pretzels with Mustard Dipping Sauce
Goose Island Pub Chips
Berghoff Root Beer
Berghoff Brats and Hotdogs
Affy Tapple Caramel Apples
Assorted concessions and non-alocholic beverages
Please note that hot food sales run from 11:00 a.m. to 6:00 p.m. Spirit wear including regatta t-shirts will be available for purchase in the festival area.