St. Mary's Crew Classic
Hosted By: St. Mary's Preparatory Crew Booster Club
Address:  3535 Indian Trail / Orchard Lake, MI 48324
The crews will race on Orchard Lake in the Village of Orchard Lake.  Facilities are available for booster tents and  parking boats over-night on the grounds of St. Mary's Preparatory, Orchard lake, MI.
Please arrange through the Hospitality Chair or the Grounds Chair for over-night parking.
Handicap parking is available as well as race side drop-off.
Road Closure: Indian Trail will be closed from 7:30 am - 2:00 pm on May 7th.  Boat trailers will be gven access upto 8:00 am.
Viewing:  The regatta does not have viewing stands.  Please bring chairs or blankets for shoreline viewing.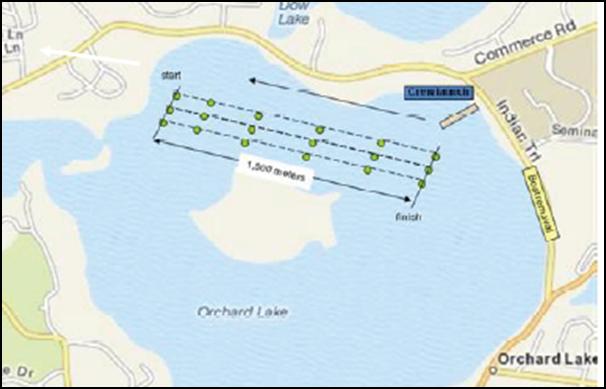 Parking: Please park in designated areas.  Volunteers will guide spectators and athlete parking.  There is no fee for parking.
Please see rules and eligibility for additional information regardin directions, course layout, and grounds.