The Grand River Challenge
Sep 28, 2013

head
Grand Rapids, MI (USA)
Hosted By: Grand Rapids Rowing Club
The head race course is on the Grand River in Grand Rapids, Michigan. The race is rowed upstream and is a semi-buoyed course.
All shells will launch from the dock at the Grand Rapids Rowing Association's boathouse, located at 291 North Park St NW. See the "Directions and Parking" tab for directions.
The ~3 km downstream row to the start serves as a warm-up. Crews will launch heading downsteam and follow the West shoreline to the start area. Returning crews will also be following the West Shoreline back to the docks. The course start line is near a public boat launch about 250m upstream from the Ann street bridge, with the starter located on the east bank of the river. The course heads upstream, bends approximately 45 degrees to starboard before bending back to port to pass under a series of two bridges (I-96 and North Park Street). For novice and adult rec crews rowing the shorter distance (2.25 miles; 3.6 km) the finish area is near a gray shack on the west shore, prior to the launch docks; open (incl. collegiate), junior, and masters crews rowing the longer distance (3 miles; 4.8 km) will continue north past the dock and boathouse to a series of wires stretching over the river, directly adjacent to a baseball stadium. An observation deck on the west bank will serve as the finish line.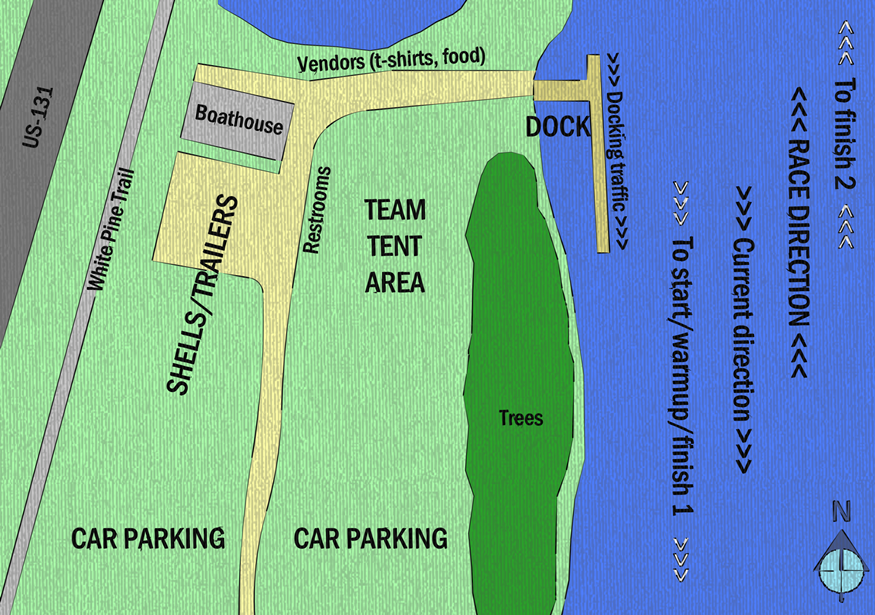 Good spectator spots include the shoreline in Riverside Park (the area on the map below on the east shore of the river to the north of the starting line and all the way up to the first highway bridge), the North Park bridge (the bridge immediately south of Finish Line 1), or the two observation decks. We recommend that spectators bring bikes.