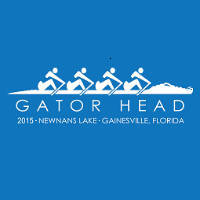 Gator Head Regatta
Oct 22, 2016

head
Gainesville, FL (USA)
Hosted By: Gainesville Area Rowing, Inc.
GATOR HEAD REGATTA
COURSE MAP: CLICK HERE
VENUE: Earl P. Powers Park (5910 SE Hawthorne Road, Gainesville, FL, 32601)
VENUE SETUP MAP: CLICK HERE

PARKING: There is parking for Team Trailers, food trailers, and coaches at Powers Park. We also have several handicap parking spots available. There will be signs leading Parents and Spectators to an adjacent lot for parking. All parking areas are within easy walking distance to the team trailers and tents. Parking is $5.00 for all vehicles other than boat/food trailers.

TEAM TENTS: Each team will have an assigned spot for their team tent. Grilling is allowed.

VIEWING: There is viewing on the pier of the last portion of the race course. The pier is located just steps away from our team tents!. There is viewing at Palm Point Park and near the start line..
PALM POINT: There is a second viewing location, Palm Point Park, it is one mile away on Lake Shore Drive. There will be shuttles running regularly to Palm Point. There is very, very limited parking so we ask that you please use the shuttle we have provided. Palm Point will have bleachers for viewing a very clear and close view of the mid-point of the race course. There will be a small concession stand for drinks and snacks and a First Aid station available.
MORNING COFFEE AND BREAKFAST STOP: There will be coffee and light breakfast items available for purchase from 6:30a.m. to 9:00 a.m.

CAFE GAR Menu: Pulled Pork, Pulled Chicken, Hamburgers, Hot Dogs, Sweet Potato Salad, Pasta Salad, Beans, Cole Slaw and Drinks. These items are for purchase. The food at this regatta is going to be very good, our grill master will start smoking the meats at midnight the night before and cookin' all night!

T-SHIRTS: There are many choices and something for everyone. We will have long sleeve, short sleeve, tank tops, and many different colors to choose from. All teams' names registered by standard deadline are listed on the back of the shirts! These shirts have been pre-printed so they will last a long time! Please visit our T-Shirt Tent and find your favorite shirt, credit cards will be taken at this location.