Australian Masters Rowing Championships
Apr 25, 2013

To

Apr 28, 2013

sprint
Canberra, ACT (AUS)
Hosted By: Rowing New South Wales
Please book your accommodation early!
In Canberra's Centenary year, accommodation is expected to be highly sought after. General information on accommodation options can be found at the Canberra Tourism website under Accommodation.
The Organising Committee has a number of preferred accommodation suppliers for the event and these are listed below. These hotels are all close to the CBD and within 15 minutes drive from the Regatta venue at Weston Park.
For further information on the Championships keep an eye out for the 1st Bulletin to be issued later this month, September 2012.
Preferred accommodation suppliers:
Capital Hotel Group
This group has three properties on offer, all located on Northbourne Ave and between 5–20 mins walk into the Canberra CBD: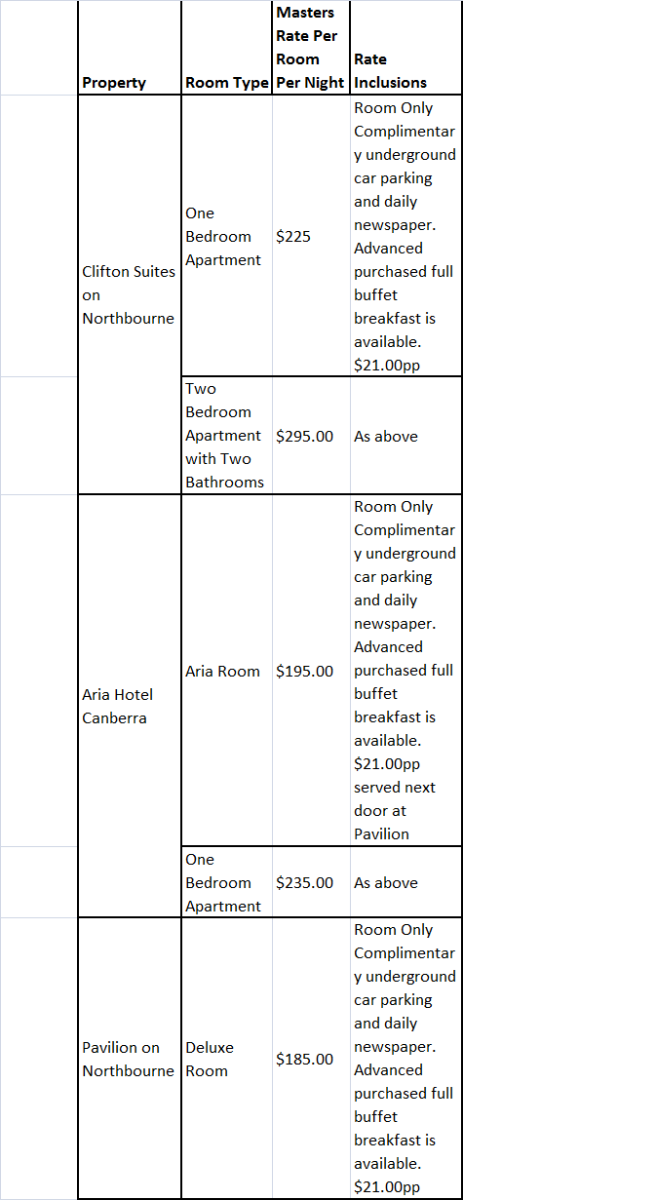 Contact details for these three properties:
www.capitalhotelgroup.com.au/
Phone: 1800 828 000
Booking Code: please quote the following booking code to access the Capital Hotel Group rates for the 2013 Masters: AMRC13
Crowne Plaza Canberra
All Participants, officials and supporters can save up to 20% off their stay when they book through the dedicated sports supporters' site. Click here to book your exclusive offer now or call 1300 662 218 and ask for the 'Canberra Sports rate' ($195 per room). You must enter check in/check out dates between 24 April and 28 April 2013 inclusive.
The hotel provides a complimentary business centre, along with complimentary access to the Pro-Fit Health Club with sauna and outdoor pool. Everyone who books a room via the sports supports site receives 20% off their full buffet breakfast (per adult) and a 2 for 1 drink voucher (per room) at Binara one Lounge Bar. Complimentary sports amenities will also be available in the room. For more information on the hotel visit www.crowneplazacanberra.com.au
Rydges Lakeside
The hotel is offering Standard Accommodation starting from $219 including a full buffet breakfast for two per room, per night. Single, twin, double share or suites are available – subject to availability. Free Wireless is available throughout the ground floor and Hotel Reception area.
Please contact the Rydges Lakeside Reservations team on 02 6247 6244 and quote the code X-2504AMRC to obtain the 2013 Masters Regatta rate. Please note you must quote this code to obtain the rate. For more information on the hotel visit: www.rydges.com/canberra