MACRA Championships
May 1, 2016

sprint
Batavia, OH (USA)
Hosted By University of Cincinnati Rowing Team
USRowing Registered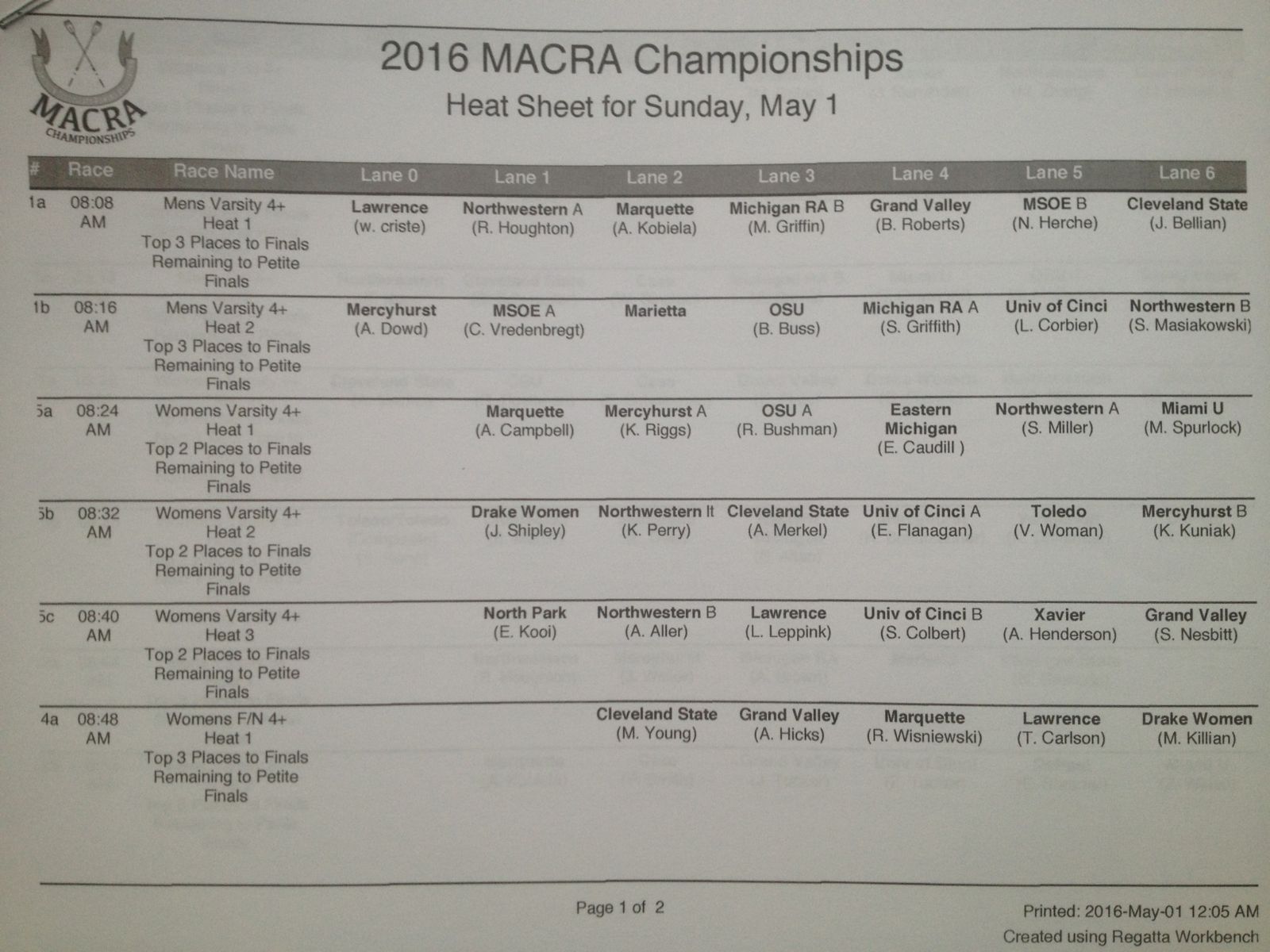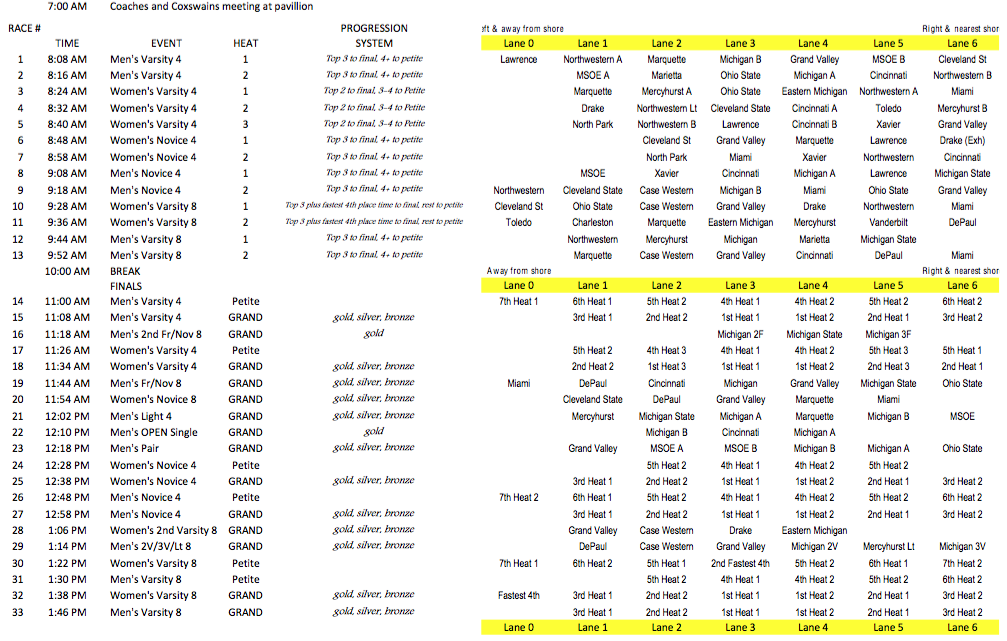 PROGRESSION SYSTEM, SEEDING AND STARTS
Progression System: Varsity and Freshman 8's will be seeded. All other events done by random draw.
7 or fewer entries: Final only.
PLEASE NOTE, depending on the water level in Harsha Lake immediately prior to racing, only 6 lanes may be available. However, we anticipate having 7 lanes.

8-13 entries: 2 heats, Top 3 of each heat to Final: all others to Petite if 9 or more entries.

14 entries: 2 heats, Top 3 of each heat to Final; next fastest 4th place time will go to Final in lane 7. All others to Petite.

15 to 21 entries: 3 heats, Top 2 to Final, places 3 and 4 to Petite; places 5 & 6 to 3rd level.

22 to 28 entries: 4 heats; heat winner plus the next two fastest times to Final; next 6 fastest times to Petite.
Petite finals: Petite finals will be offered in each event that has 9 or more entries.
Lightweight: This Regatta will offer lightweight events if there are 3 or more entries. If there are fewer than 3 lightweight crews then they will automatically be placed into the heavyweight event.
Seeding: Coaches with entries in the Varsity and Freshman/Novice 8's will be asked to participate in a poll to determine seeding of the initial heat placement.
Starts: A start platform with boat-holders will be used. This is very similar to starting from stake-boats; therefore, all crews should review procedures for backing and sculling. Crews unable to lock into the boat-holder by the start time of the race will be issued a warning. The officials reserve the right to disqualify / exclude crews who are unable to lock into the boat-holders and keep a point. Crews who are unable to do this will not be permitted to row down the course.
Medals: Medals will be awarded to the top three places. If there are 3 entries, only a Gold medal will be awarded. If there are 4 or more entries, Gold, Silver, and Bronze medals will be awarded. There are Team Point Trophies for the Men's and Women's Team, as well as the Overall Team Point Trophy for combined Men's and Women's results.