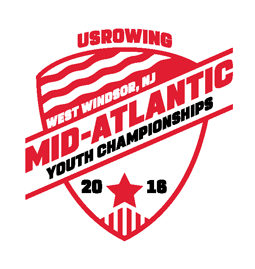 USRowing Mid-Atlantic Youth Championships
May 7, 2016

To

May 8, 2016

sprint
West Windsor, NJ (USA)
Hosted By: USRowing
2016 Owned Regatta
***Schedule Change for Sunday, May 7***: Due to predicted high winds on Sunday starting late morning, the Mid-Atlantic Youth Championships schedule has been adjusted per USRowing's Adverse Weather Policy.
Wind speeds are forecast to build during late morning and continue to increase during the afternoon, preventing a delay in racing. Our goal is to still race all of Sunday's finals, with the priority given to the Youth National Championships qualification events.
Accordingly, semifinals for the non-qualifier events scheduled for Sunday morning have been eliminated. The finals in these events will be seeded from the heat results.
Racing will begin at 7 a.m. with the finals in the W1x and will run on seven-minute centers. An adjusted schedule will be available later this afternoon.
Weigh-in Forms
Coxswain Weigh-in Form (please cut page into separate cards)
To keep up with information for the regatta, visit the regatta web page on the USRowing web site: