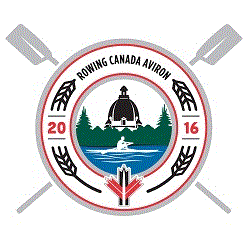 Rowing Canada Aviron (RCA) Canadian Masters Championships
Jul 23, 2016

To

Jul 24, 2016

sprint
Regina, SK (CAN)
Hosted By Regina Rowing Club
Social Events:
Friday, July 22: CMC 2016 Opening Ceremony and Deck Party

Tapis and Cash Bar
Location: Regatta Pavilion near Pine Island – 3000 Wascana Dr. Regina, SK
6:30 - 9:30 - Social with Tapis Appetizers and Cash Bar
Cost - $25 CAD/person
Maximum of 80 tickets to be sold
Opening Ceremony
Location: Pine Island near the Finish Line Tower and Awards Dock – 3000 Wascana Dr. Regina, SK
6:00 – 6:30 - Opening Ceremony with RCMP Pipe Band
Cost - Free and Open to all
Please join us for a seasonal menu with prairie cuisine, carefully selected wines, and socializing space overlooking beautiful Wascana Lake, the Regina Rowing Club, the Regatta Site, the Saskatchewan Legislative Building and city skyline. This is a casual evening where you will be able to connect with many rowing friends and help us open the Canadian Masters Championships regatta for 2016!
Saturday, July 23: Prairie Feast at the Royal Canadian Mounted Police Heritage Centre

CMC 2016 Supper and Social
Location: RCMP Heritage Centre – 5907 Dewdney Ave. Regina, SK
6:00 - Cocktails - cash bar
6:00 - 8:30 Gallery open for Self-guided tours
7:30 - Prairie Feast (turkey, mashed potatoes, gravy, hot vegetable, cabbage rolls, 7 salads, variety of cheese cakes, coffee and tea)
Cost - $35.00 CAD/person
Maximum of 180 tickets to be sold
Please join us at the historic Royal Canadian Mounted police Heritage Centre at the RCMP Canadian Training Academy for a night of conversation and a Saskatchewan Dinner. Visitors to the RCMP Heritage Centre will experience the history of the RCMP as well as the modern workings of the force. This is bound to be a fun evening connecting with your new and old rowing friends while you explore the Heritage Centre.
Canadian Masters Championships Closing Social
Two Days of Rowing – A Lifetime of Memories
Come join us at The Pump Roadhouse to add the cherry on top of your many great memories of CMC 2016!
We will be closing our regatta and celebrating the good time had by all at this event and we would love for you all to join us.
Where: The Pump Roadhouse located at 641 Victoria Ave. E.
When: Sunday, July 24, 2016
Time: 5:00 pm to 9:00 pm
Menu: TBD but we assure you it will be great
Activities: Eat, Drink and Be Merry with Karaoke
Price: For $20.00 CAD/person you get your meal and one drink ticket
There is a limited number of tickets available so if you are interested in attending our closing social with us then please get your tickets early by clicking the link below.
Deadline for ticket purchase is July 15, 2016 or until we have reached our maxiumum ticket sales. So don't delay - get your tickets early!
2016 Canadian Masters Championships Regatta Package
2016 Canadian Masters Championships Website