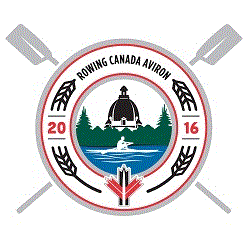 Rowing Canada Aviron (RCA) Canadian Masters Championships
Jul 23, 2016

To

Jul 24, 2016

sprint
Regina, SK (CAN)
Hosted By Regina Rowing Club
Merchandise
We will be selling the following at our regatta:
Regatta Spirit Wear
There will be a high performance sport shirt and a T-shirt for sale.
We are selling our high performance sport shirts for $40 CAD/shirt and our T-shirts for $25 CAD/shirt.
Please watch our website for more details.
Regatta Limited Edition Print
Val Moker has been commissioned and she has created a print which will be available for purchase. Internationally recognized Regina artist Val Moker* has created a unique piece of original art specifically for the Regatta. High quality, limited edition canvas reproductions will be created from her original piece of art and will be sold at the Regatta Pavilion during the competition. Proceeds from the sale of art reproductions will go to support the Canadian Masters Championships.
Name our CMC 2016 Art Contest
We have an exciting contest we hope you will participate in. Val's piece of art is as yet unnamed so she and the Regina Rowing Club are looking for your help to "name that painting". Please submit your email entry by noon on July 15th to RCAMastersRegina@gmail.ca with "Name That Painting" in the subject line. The name for the painting will be chosen by a committee and the winner will receive a 12" x 18" limited edition reproduction of the painting valued at over $150.00.
For prices and to purchase your artwork online please go to our website for purchasing linkes. Limited Edition Print Details and Purchasing
Please watch our website for more details
Regatta Jewellery
CMC 2016 Custom Jewellery
This year, a striking pendant will be made uniquely available to the Canadian Master Championships 2016. The fluid lines of the oar represent the rower's grace, skill and mettle. Each piece is handmade and set with unique colors. It is a desired keepsake and a fitting representation of the sport.
The piece was designed by jewellery designer Barb Hersche and Scott Olson, owner of Olson Goldsmith in Regina, SK (est. 1980).
This keepsake piece will be available July 23 and 24 in the events tent, be sure to stop by to add this handmade piece to your collection.
We are selling our designer oars for $35 CAD/piece.
Please watch our website for more details: Regatta Jewellery!
On Site Food Service
There will be food available for purchase in our Regatta Pavilion.
**All food is vegan, glutenfree, soyfree, and dairyfree**
Beverages∫
33 ⅓ Coffee/Tea 2.00
Assorted Perrier 2.00
Coconut Water 3.00
Herbal Lemonade 3.00
(Gatorade or similar) 3.00 → water bottle fill
Breakfast∫
GF Oat Muffin 2.00
Fruit Cup 3.00
Steel Cut Oats & Fruit 4.00 8 oz / 6.00 12 oz
Vega†Bars∫
Snack (granola) Bar 3.00
Sport Protein Bar 4.00
Meal One Bar 5.00
Vega†Supplements∫
Sport Recovery 3.00
Sport Energizer 3.00
Sport Protein 4.00
One Protein Greens Multi 4.00
**add 1.00 if mason jar required**
Salads∫
5.00 8 oz / 8.00 16 oz
Quinoa / chickpea / snap pea / carrot / celery / lemon zest / blueberry mint dressing
Cucumber / lentil / shredded carrot / scallion / toasted sesame seeds / ginger date dressing
Soups∫
6.00 12 oz / 8.00 16 oz
Saturday: Mild Lentil Dal (vegetable broth / red split lentils / onions / tomatoes / ginger / garlic)
Sunday: Squash & Eggplant with herbs and Basmati rice
2016 Canadian Masters Championships Regatta Package
2016 Canadian Masters Championships Website