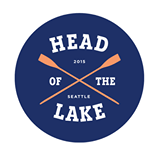 Head of the Lake
Nov 6, 2016

head
Seattle, WA (USA)
Hosted By: Lake Washington Rowing Club
2016 Registered Regatta
The Head of the Lake is a USRowing Registered Regatta. We adhere to the USRowing Rules of Rowing as outlined in the USRowing Rules of Rowing Manual.
For HOTL specific information, please refer to The 2016 Head of the Lake race booklet .
Head of the Lake Penalty Summary HOTL Course Map
Dangerous corner! "Pocock Turn" If the racing shell of any crew or individual crosses over the port side buoy line the individual rower or crew will be disqualified.

"Montlake Cut" and 100m east of the University Bridge to the South end of Ivar's restaurant. Any crew or individual rower entering the warm up lanes (while racing) or racing lanes (while warming up) in these two areas may be excluded. Referee will determine this based on the circumstances.

Navigational buoy past Foster Island: If a crew holds down (port side) while making this turn the crew will be excluded. All rowers must keep rowing! NOTE: If a crew has to hold down to avoid colliding with another crew the referee stationed there will take note and make an allowance for this.

Where buoys mark the boundaries of the course a crew or individual rower will be penalized 10 seconds for each buoy they pass incorrectly.

Interference with another crew either failing to yield safely to allow a boat to pass (blocking their path intentionally) or the passing boat not allowing time for the crew they are passing to yield to the passer safely will result in a penalty being assessed. It will be at the referee's discretion as to the penalty assessed.
Penalty Code Description Penalty
TP Traffic Pattern Violation reprimand / warning
TPX Traffic Patter Violation with Collision exclusion
OO Out of start order reprimand / warning
OOX Out of start order exclusion
IN Invisible Number no race time
CBX Cross Buoy line/ Pass in no pass zone exclusion
FCX Force Crew into opposite traffic disqualification
MB Missed Buoy 10 sec
HDX Hold Down on Turn exclusion
FY Failure to Yield 60 sec
FYX Failure to yield with contact exclusion
IF Interference 60 sec
IFX Interference with contact exclusion
NPX Pass in no pass zone exclusion
UP Unsafe pass 60 sec
UPX Unsafe pass exclusion
DRX Flagrant Disregard for Rules disqualification
FF Fail to Follow instructions 60 sec
FFX Fail to Follow instructions exclusion
LRX Leave Rower in water alone disqualification