North Tahoe Regatta
Event Schedule
NOTE: YOU MUST ATTEND EITHER THE COURSE PRACTICE SESSION ON SATURDAY, AUGUST 6TH OR THE PRE-RACE BRIEFING ON SUNDAY, AUGUST 7TH IN ORDER TO RACE.
Saturday, July 25
6:30am PDT: Course Practice - meet us on the beach in Kings Beach to take a practice run around the course of your choice.

Saturday, August 6th
6:30am PDT: Course Practice - meet us on the beach in Kings Beach for a pre-race briefing and to take a practice run around the course of your choice. IF YOU ATTEND THIS PRACTICE SESSION, YOU DO NOT HAVE TO ATTEND THE SUNDAY MORNING BRIEFING.
Sunday, August 7th
6:00am PDT: Registration/Check-in on the beach at the Crown Motel in Kings Beach
6:45am PDT: Race Briefing - MANDATORY IF YOU DID NOT ATTEND THE COURSE PRACTICE SESSION ON SATURDAY MORNING
7:00am - 7:30am PDT: MANDATORY Boat safety checks and launches
8:00am PDT: First race begins
11:00am PDT: Race cutoff - any boats still on course will be instructed to return to shore. (NOTE: We expect all boats to complete the race by 10:00am or so, but we'll make a sweep around 10:30 to start herding any stragglers back home.)
11:30am PDT: Results and Awards
Brunch items (breakfast burritos, scones, fruit, coffee, etc.) will be available to all registered competitors and volunteers from approximately 6:30am to 11:30am at no additional charge.
After awards, we'll head down the street to the Ta-Hoe Nalu Festival for refreshments and to watch the paddlers. There will be food trucks and a beer garden available.
Race Location
Check-in and Race Briefing will be held at The Crown Motel in Kings Beach, CA. See the area circled in blue in the image below for the location.

You may launch boats from The Crown Motels' private beach or from any of the adjacent public beaches in front of the North Tahoe Events Center. If launching from the Crown Motel, please stay to the east or west edges of the property, away from the private seating area for resort guests. Areas circled in red in the image below are good places to launch: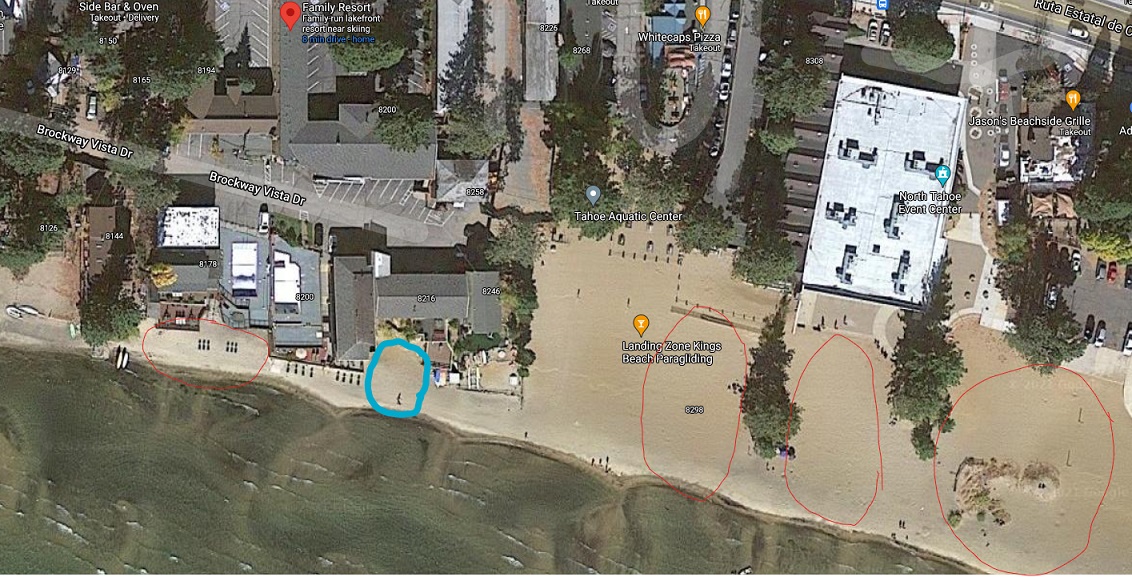 Likewise, there are several suitable areas for loading and unloading boats, both at the nearby public beaches and at the Crown Resort itself. Two excellent options are Secline Street and a portion of Brockway Vista Drive to the west of the Crown Motel and at the North Tahoe Events Center and Kings Beach State Recreation Area (paid access to the parking area here!) east of the Crown Motel: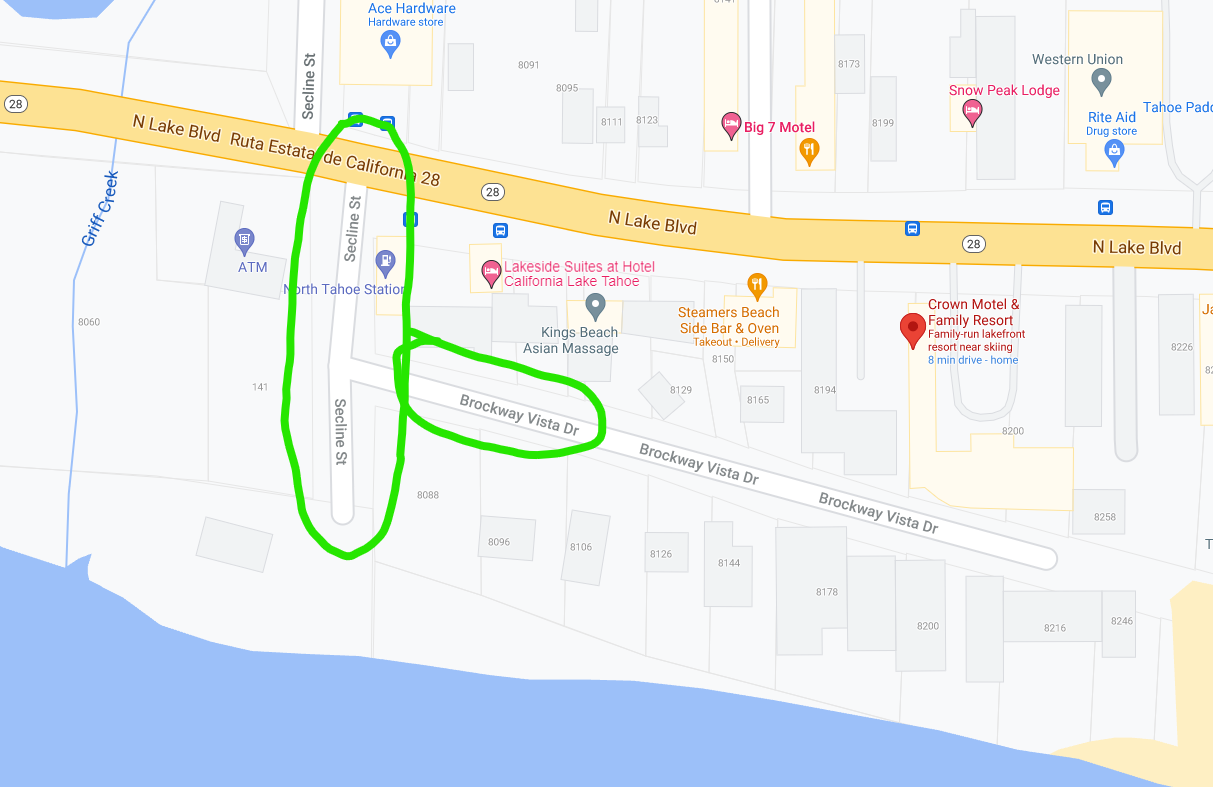 Since there is no overnight parking on Secline, if you get there early (6am) it should be wide open with lots of spots and easy access to a beach for launching: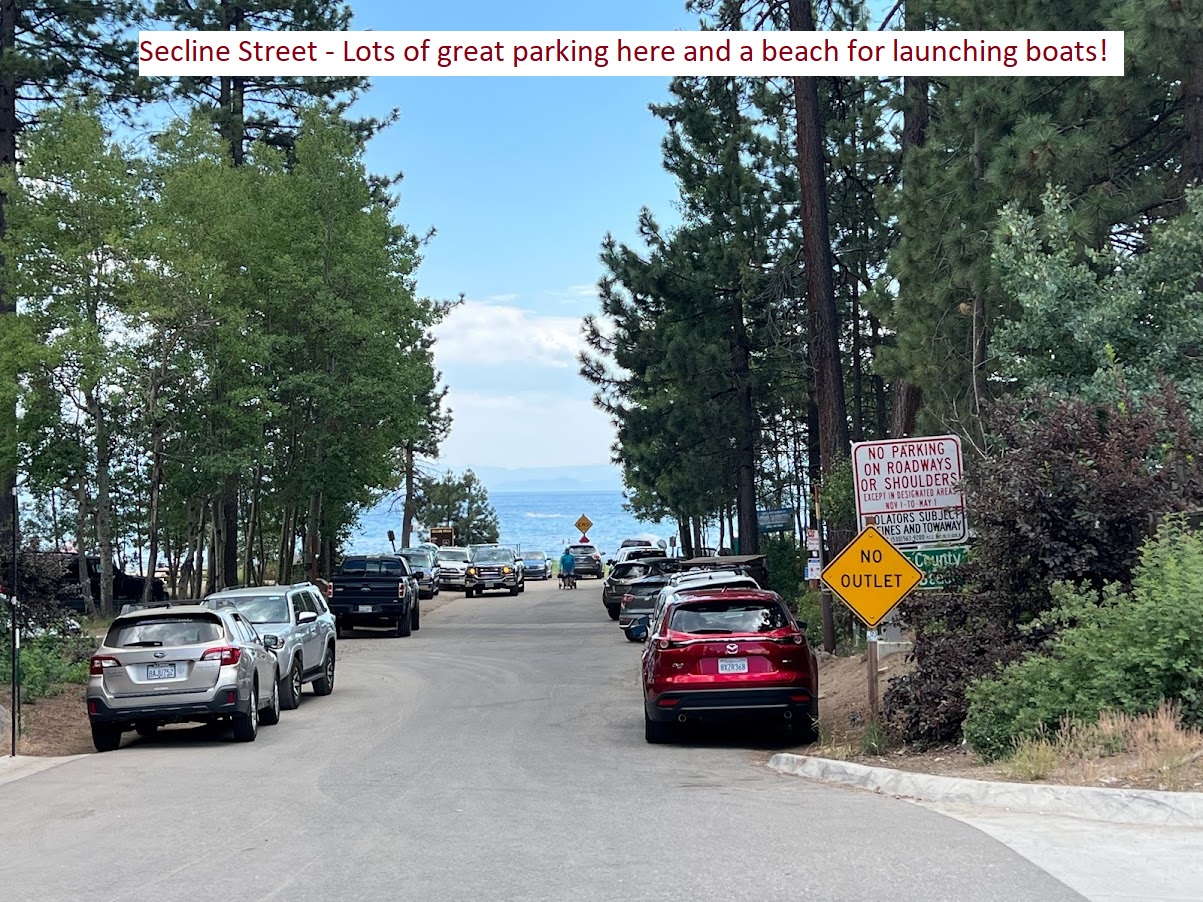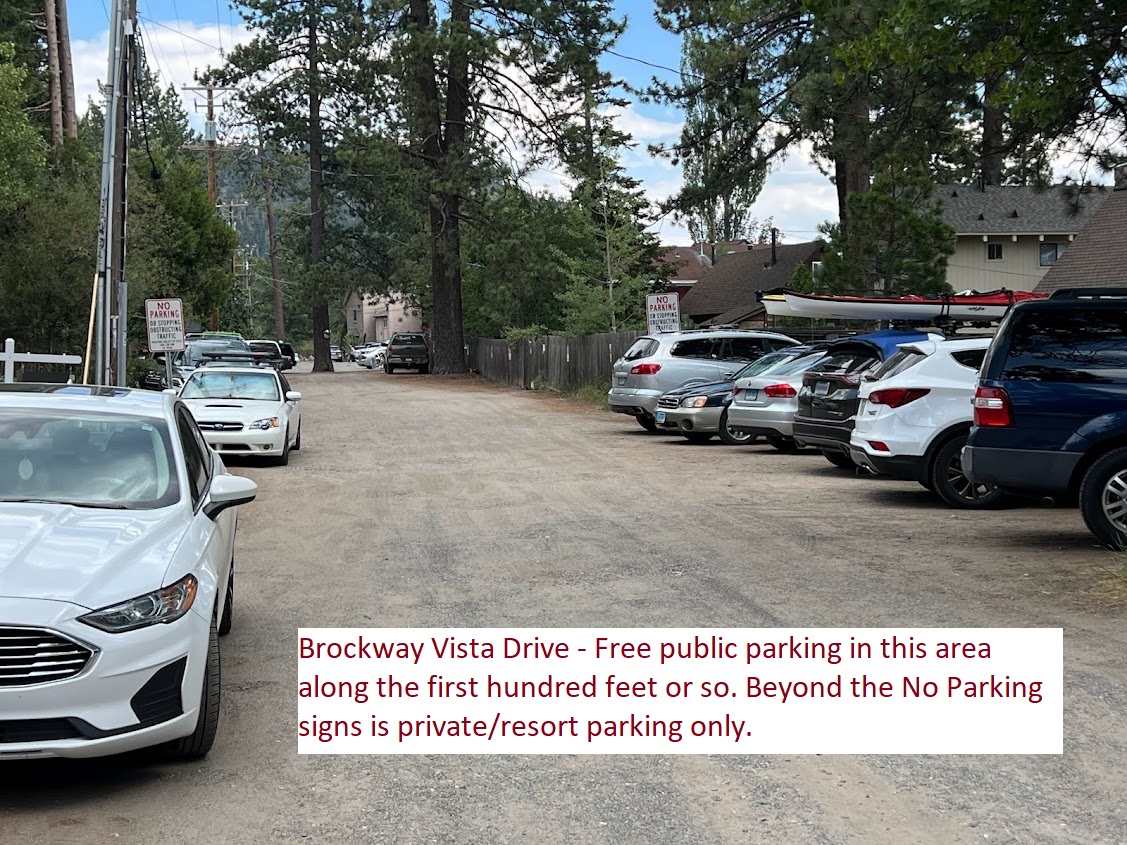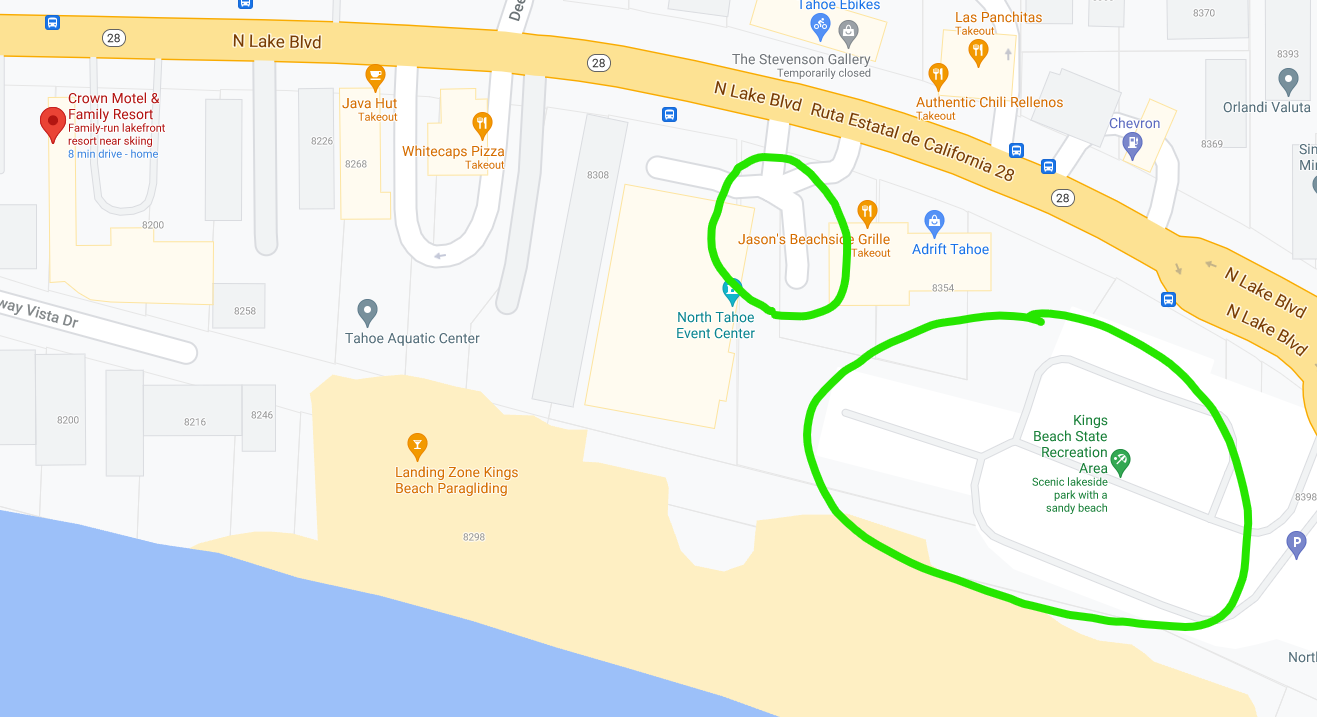 Note that Brockway Vista Drive off Secline Street runs behind the Crown Motel's office. You are welcome to unload here as well, but be aware that this is a dead end with no outlet, so the area can get very tight with cars. In addition, the parking areas here are restricted to Crown Motel guests only, and beach access is via a narrow staircase. Hence, it is not the best option.
You can also just park anywhere along CA-28/North Lake Blvd. (2-hour parking only!) and walk your boat down to the beach.
There is abundant street parking on the residential streets north of CA-28/North Lake Boulevard. There are also several public (paid) lots in the area, but be aware that they fill up early (which shouldn't be a problem for rowers, right??).
The Courses
There are two courses available, a 16km Long Course and a 7km Short Course.
Each is challenging in its own way, but the Long Course is reserved for open water and coastal shells only due to its more exposed nature.
In addition, the following safety rules apply to all boats on both courses:
All boats on must either be self-bailing or carry a bailing device onboard.

A PFD must be carried onboard for each rower.

Each boat must carry at least one noisemaker (whistle or air horn).

Though not required, a compass or GPS is strongly advised.
If you have a GPS device, here is the Long Course GPX File.
(Disclaimer: Please consider all coordinates to be approximate; actual positions of turning points may vary by as much as 100m due to conditions. Look where you're going!)
North Tahoe Regatta GPS Coordinates

| | | | | | | |
| --- | --- | --- | --- | --- | --- | --- |
| Long Course | | | | Short Course | | |
| Point | Latitude | Longitude | | Point | Latitude | Longitude |
| Start | 39.2339667 | -120.0278667 | | Start | 39.2339667 | -120.0278667 |
| Dollar Point | 39.1843167 | -120.0919667 | | Turn 1 | 39.2176333 | -120.0097167 |
| Carnelian | 39.2066833 | -120.0884333 | | Turn 2 | 39.2231667 | -120.0417833 |
| Finish | 39.2339667 | -120.0278667 | | Finish | 39.2339667 | -120.0278667 |