Sturgeon Bay Maritime Regatta
Jul 28, 2012

sprint
Sturgeon Bay, WI (USA)
Hosted By: Sturgeon Bay Rowing Club
2016 Registered Regatta
Directions:
All participants and visitors to the Regatta should make their way by using the interstate highway system to Green Bay Wisconsin. Once in Green Bay take highway 57 directly to Sturgeon Bay.
(See map, below)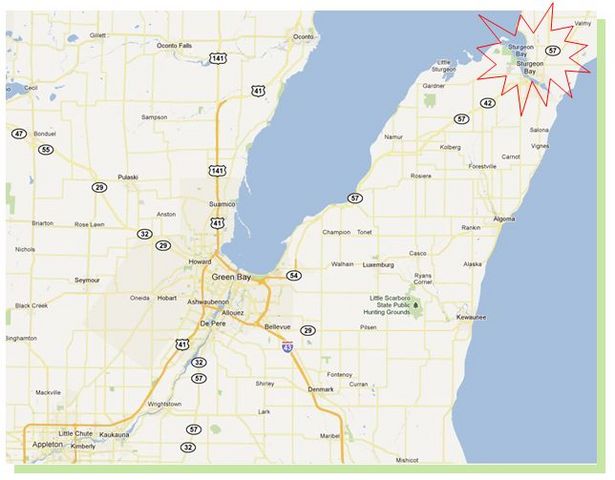 Once you have entered into the city limits of Sturgeon Bay, proceed along Highway 57 to the stop light intersection of Highway 57 and Neenah Ave. Turn left at the intersection. You will now be on Neenah Ave. Drive approximately five blocks and take a right onto Oregon Street. Oregon Street will take you over the bridge. Take a sharp right onto S. 3rd Ave (this turns into Memorial Drive). Take Memorial Drive until you reach the designated Regatta Director's Tent. Truck and trailer parking on Memorial Drive will be available on a first come first serve basis. There will be sufficient parking space to store all trailers and haulers. However, to ensure a decent location, we advise you to arrive as early as possible. If you wish to unload your boats at this time on the Memorial Drive beachfront, volunteers will be giving instruction on where clubs can stage their fleets. Once boats and trailers have been staged, you may then check-in at the Regatta Director's Tent.
Sawyer City Park and Roen Salvage: Proceed SE on Memorial Drive and take a sharp right onto Utopia Circle. Follow Utopia Circle around until you reach Memorial Drive. Turn left onto Memorial Drive and go NW to Oregon Street. Turn Left on Oregon Street, cross the bridge, and turn left onto S. Neenah Avenue. From S. Neenah Avenue you turn left into Sawyer City Park or Roen Salvage.
(See map, below)
Automobile Parking: Parking will be directed to the appropriate location by parking marshals.